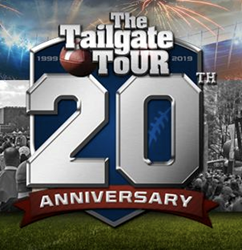 IRVING, Texas (PRWEB) May 21, 2019
The College Football 150th Anniversary (CFB150) celebration will be prominently featured as part of the 2019 Tailgate Tour, a national college football fan experience. Through a partnership with NFuse 360 Marketing, the Tailgate Tour will highlight the 150th anniversary of college football and assist in celebration of "The Good in the Game" during its 2019 tour stops.
The Tailgate Tour, celebrating its 20th anniversary, will include the CFB150 logo in advertising, marketing, publicity and promotions for the 2019 tour. The Tailgate Tour is the largest and longest running national mobile fan experience at college football game sites.
The 2019 Tailgate Tour will begin at the Camping World Kickoff game in Orlando on Saturday, August 24, featuring the Florida Gators and Miami Hurricanes. As fans enter into the 2019 tour experience, they will be greeted by entryway signs and banners that display the CFB150 logo. The tour will continue at additional game sites throughout the 2019 season.
CFB150 advertising will also be included in the tour's official fan guide distributed at game sites. In addition, CFB150 and The Tailgate Tour will cross-promote on their social channels to celebrate their 150th and 20th anniversaries respectively.
"College football is woven into the fabric of our country, and we cannot think of a better way to celebrate our 20th anniversary of The Tailgate Tour, than partnering with CFB150 in this significant national celebration of the sport" said Jay Freedman, Partner, NFuse 360 Marketing, the administrator of The Tailgate Tour.
"We are delighted to have the added exposure for the 150th anniversary celebration that will be provided by inclusion in the 2019 Tailgate Tour," said Kevin Weiberg, CFB150 Executive Director. "The tour experience is a great way to reach thousands of passionate college football fans."
About College Football 150th Anniversary (cfb150.org)
College Football 150th Anniversary is a non-profit corporation formed by college football stakeholder groups to plan and administer a national celebration of 150 seasons of collegiate football in 2019. The commemoration will showcase the rich history and traditions of the sport and its positive impact on lives and communities, while also promoting the opportunity it continues to provide to thousands of student-athletes across all levels of the sport.
About NFuse 360 Marketing (http://www.nfuse360.com)
NFuse 360 Marketing is based in Deerfield Beach, Florida, Nashville and Los Angeles. NFuse 360 Marketing is a strategic integrated marketing, promotion and events company that directs an array of custom marketing programs for global brands. NFuse 360 builds hundreds of custom programs a year that are structured on providing 360 degrees solutions for its clients. http://www.nfuse360.com.
The Tailgate Tour (tailgatetour.com)
The Tailgate Tour is the longest running and largest mobile fan experience in college sports marking its 20th anniversary in 2019. The Tailgate Tour reaches over 1.5 million college football fans over 14 weeks. A complete list of 2019 sites will be announced this summer.