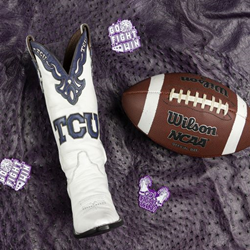 FORT WORTH, Texas (PRWEB) January 07, 2023
The TCU Horned Frogs made their second appearance at the Fiesta Bowl, where they beat the Michigan Wolverines 51-45. This trip to the Fiesta Bowl is a full circle moment for the TCU Showgirls. The nationally-acclaimed TCU Showgirls, the Horned Frogs' dance team, have been wearing custom Justin Boots as part of their uniform since their 2010 debut at the Fiesta Bowl.
"Coming back to the Fiesta Bowl was a very nostalgic moment for the TCU Showgirls as the 2010 bowl game was the first debut of our custom Justin Boots and Cowboy uniform in the 2010 bowl game," says Lindsay Westbrook, TCU Spirit Director. "Our partnership has grown since that moment and we could not be more appreciative of the support from Justin Boots. We are honored to wear their boots and love to make them proud on and off the field."
Their signature white boot has a purple "TCU" inlay on the upper and elegant purple detailing around the collar. These custom boots are only available for TCU Showgirls, making them a prized possession for those who have earned their spot on the team. The renowned uniform is currently on display in two noteworthy locations - an exhibit at the College Football Hall of Fame in Atlanta, Ga. and inside the Jane & John Justin Hall of Fame at Texas Christian University in Fort Worth, Texas.
"We absolutely love our partnership with the TCU Showgirls. We're always proud to see our boots dance across the field, especially when being worn by a group of outstanding young women," says Taylor Morton, Public Relations Manager. "Most importantly, we're proud to continue our long-standing relationship with the university. John Justin, Jr. was a proud supporter of the Horned Frogs for over half a century. We know he'd be proud of this uniquely Fort Worth collaboration."
TCU will make history by playing in their first national championship since 1938. The TCU Horned Frogs will face the Georgia Bulldogs in the 2023 College Football Playoff National Championship on Monday, January 9, 2023 at SoFi Stadium in Inglewood, Calif. The TCU Showgirls and their Justin Boots will be there every step of the way.
Join Justin Boots in cheering on the Horned Frogs as they head to the National Championship.
About Justin Boots
Justin Boot Company has been handcrafting western footwear in the U.S. since 1879 when founder H.J. Justin mastered the craft of boot-making using only the finest leathers and quality materials for superior craftsmanship. The Standard of the West since 1879, Justin Boots remains committed to providing dependable footwear at a value, along with a prominent focus on handcrafting boots in the U.S. with global parts. For more information, visit justinboots.com.
Facebook: @JustinBoots | Twitter: @JustinBoots | Instagram: @JustinBoots_
About TCU Showgirls
The TCU Showgirls can be found dancing and cheering at TCU football, basketball, and baseball games and other TCU events. In addition, selected members travel to the football bowl game and postseason basketball tournaments. The Showgirls dance team maintains a high profile within the community, making special appearances and participating in community service projects and events.
Facebook: @TCUShowgirls | Twitter: @TCU_Showgirls | Instagram: @tcu_showgirls