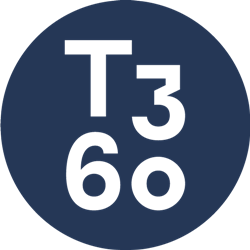 "We've been working on this research for over six months," says Stefan Swanepoel, CEO of T3 Sixty. "The goal was to help industry executives, brokers and agents make better, more efficient decisions about the technology they evaluate and choose."
SAN JUAN CAPISTRANO, Calif. (PRWEB) March 26, 2020
T3 Sixty, the nation's leading residential real estate consulting and research firm, has released its comprehensive list of leading residential real estate technology products and vendors organized into seven sections and 63 categories. Designed to help brokers and agents better evaluate and choose technology, the Tech 500 organizes and selects the industry's leading technology for brokers and agents in the most comprehensive study ever of its kind at no cost.
Brokers and agents have a vast pool of technology products and vendors to choose from and needs that differ based on business model, franchise affiliation and more. By first determining the industry's leading tech solutions and then organizing them against its Real Estate Technology Landscape into specific categories, T3 Sixty greatly simplifies the real estate technology decision-making process for brokers and agents with the Tech 500.
The report, the third section of T3 Sixty's comprehensive Real Estate Almanac, sorts and compiles products from well-established companies such as: MoxiWorks, W+R Studios, Constellation Real Estate Group, Inside Real Estate, Fidelity National Financial, Adwerx, LionDesk, Buyside, ActivePipe, HomeSpotter, Union Street Media and many more. It includes over 550 entries with over 270 unique products and vendors.
No technology vendor paid for inclusion in the Tech 500. Each provider and product inclusion was determined by a mix of the following criteria:

Innovation and application within the Real Estate Technology Landscape
The depth, breadth and reliability of its solutions
Known or tested client satisfaction or adoption metrics
Product's/Provider's market share
Year-over-year growth, specifically related to significant new enterprise clients
Ability to service and support clients, including enterprise entities
Leadership in their respective categories and overall impact on the industry
"We've been working on this research for over six months," says Stefan Swanepoel, CEO of T3 Sixty. "The goal was to help industry executives, brokers and agents make better, more efficient decisions about the technology they evaluate and choose."
T3 Sixty estimates that the residential real estate industry has approximately 2,000 technology products and vendors. After analyzing the industry's full scope of technology, it determined that this technology can be most usefully organized into seven sections and 62 categories, based on function and target customer.
The seven sections are:

Section A – Enterprise Technologies (3 Categories)
Section B – Top of the Funnel Technologies (25 Categories)
Section C – Middle of the Funnel Technologies. (15 Categories)
Section D – Bottom of the Funnel Technologies (8 Categories)
Section E – Post Funnel Technologies. (4 Categories)
Section F – Broker Platform Technologies. (6 Categories)
Section G – Other Technologies. (1 Category)
"Sifting through the available technology vendors without any context or idea of value is challenging for anyone looking for practical solutions," said Travis Saxton, T3 Sixty's vice president of technology, who headed up the research. "Fortunately, the T3 Sixty technology team has over five decades of combined industry expertise, and has met, tested or worked with many of these providers and products."
"The Tech 500 is about cutting through the noise and giving you meaningful info in a concise format," said Jack Miller, president and chief technology officer of T3 Sixty. "One of the list's most competitive categories is Digital Advertising Systems for Listings; as agents move more listing marketing into social media and online, tech providers have created products in this category at breakneck pace."
As technology rapidly evolves and grows, T3 Sixty invites anyone who believes they can contribute to the report to contact our R&D team at research@t360.com.
About T3 Sixty
Exclusively serving the residential real estate brokerage industry, T3 Sixty provides management consulting and counseling to real estate C-level executives, organized real estate leaders, broker-owners and leaders of high-performance teams to help them grow their businesses. T3 Sixty also offers in-depth research, information and best practices with its hallmark Swanepoel Trends Report, an annual analysis of the biggest trends impacting the industry, and the Real Estate Almanac, a comprehensive examination of the U.S.'s largest brokerages, franchises, networks, associations, MLSs and technology providers. More at t360.com.
About the Real Estate Almanac
The Real Estate Almanac is a comprehensive compendium of information of the residential real estate brokerage industry's most powerful and influential people, largest companies and organizations and its most important technologies. The publication, which debuts in June 2020, includes five components: the SP200, a ranking of the nation's most powerful leaders (released each January); a ranking of the nation's largest MLSs and Realtor associations (released each February); the Tech 500, the nation's leading technology vendors (released each March); a ranking of the nation's largest franchisors, holding companies and enterprises (released each April); and the Mega 1000, a ranking of the nation's 1,000 largest brokerages (released each May). Together, these comprise the Real Estate Almanac. More information realestatealmanac.com.