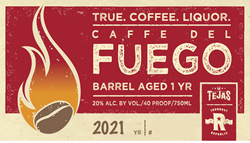 AUSTIN, Texas (PRWEB) November 20, 2021
The Texas Whiskey Festival and Remington Family Distillers are excited to announce the release of the Ironroot Republic Distilling bourbon barrel-aged Caffe Del Fuego collaboration.
Tejas, the Spanish spelling of the ancient Caddo word for "friend" or "ally," is a collaboration between the festival and various Texas distillers to create unique offerings that showcase their methods and character. Each bottling will be a limited release available only through the respective distiller.
The Ironroot Republic Distilling bourbon-barrel-aged Caffe Del Fuego is the second release in the Tejas collaboration series. Caffe Del Fuego is coffee liquor done right. "As lifelong whiskey drinkers we have always loved how it pairs with our product. That's why we were super excited by this project. By aging Caffe Del Fuego for a year in Ironroot bourbon barrels we were able to create a special release that really captures the best of two great spirits. Our rich coffee taste, their smooth, smoky accents, and the deep caramel and vanilla flavors from both come together into something truly noteworthy. I can't wait for our fans to have the opportunity to enjoy this," said Mark Remington Koelsch, President and Founder of Remington Family Distillers.
The bottling totaled just under 500 – 750ml bottles. It will be available next week, just in time for Thanksgiving, exclusively through the tasting room at Remington Family Distillers. "I love that three companies came together to create this fantastic product," says Jake Clements, Co-Founder of the Texas Whiskey Festival. "The collaboration is still going; the empty barrels are now back at Ironroot for the second part of our collaboration."
Tejas came to embody the character of the weathered and resilient settlers who saw the wide-open west as their destiny. This series pays homage to their intrepid resolve by bringing together our favorite Texas distilleries in a spirit of friendship that exemplifies the pride we take in proclaiming, "We are Tejas!"
For more information about the Texas Whiskey Festival visit http://www.txwhiskeyfest.com and for more information about Remington Family Distillers visit https://www.rfdistillers.com.
Media inquires please reach out to media@txwhiskeyfest.com
About the Texas Whiskey Festival
The mission of the festival is simple: To help promote and enhance the brands of the many great distilleries throughout Texas. Along with promotion, we want to educate whiskey lovers about the many top-of-the-line whiskeys being produced in our great state - and we're doing it all while having fun, drinking great whiskey, and building memorable experiences. As an organization, we know that Texas has some of the best distilleries and whiskeys in the world. The Texas Whiskey Festival is an opportunity to showcase that. For more information, please visit https://txwhiskeyfest.com.
About Remington Family Distillers
Founded by cousins Peter Knight Remington and Mark Remington Koelsch in 2014. Located in Austin, TX, Remington Family Distillers with a passion for superior quality spirits, Remington Family Distillers is the culmination of a whole bunch of paperwork hoops to jump through and a desire to create and produce premium liquor with you in mind.