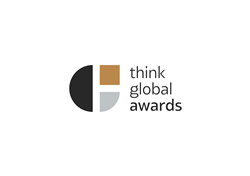 DUBLIN, Ireland and MOUNTAIN VIEW, Calif. (PRWEB) February 09, 2021
The Think Global Awards are delighted to announce this year's shortlist. Thank you to everyone who has entered the latest awards, and to our dedicated judging panel.
The program, running for its fourth consecutive year, offered 14 different categories, including Brand of the Year, Going Global, and new categories such as Education & eLearning, and Sustainability.
The Think Global Awards shortlisted applicants are listed below:
Brand of the Year
OnBuy
Busy Life Ltd
STEM Punks
Crafter's Companion
Animaccord
Language Industry Person of the Year
Ulrich Henes
Mimi Hills
Alex Katsambas
Iti Sahai
Digital Transformation
Fresh.Land
ServiceNow
Clinical Pharmacist Solutions
BASE Technologies
Community/Non-Profit
Scenesaver
Host in Ireland
The Shona Project
doTERRA
The Skateroom
Retail and eCommerce
Fresh.Land
Reload Digital
OnBuy
Busy Life Ltd
Education and eLearning
Rantmedia Ltd
MURAL
FH Europe
STEM Punks
Clinical Pharmacist Solutions
Media/Advertising
Croud
OnBuy
Irish Guide Dogs
Panjab Radio
Going Global
Animaccord
Rokt
Globalization Partners
The Skateroom
Payslip
Technology
Babel Street
Altagram GmbH
ApisProtect
Payslip
Travel
Visit Sweden
Travelzoo
ReboundTAG
Secret Street Tours
Start-Up
Role Mapper Technologies
Motion Metrics Ltd
Fresh.Land
Molzi
Coresight Research
Scenesaver
Lilo
Sustainability
Polestar
Rantmedia Ltd
Fresh.Land
ApisProtect
ROCTEL
Life Sciences
Clinical Pharmacist Solutions
Pale Blue Dot® Recruitment
Equine MediRecord
Professional Services
Coresight Research
CSA Research
Rantmedia Ltd
The NewComm Global Group, Inc.
Congratulations to this year's shortlisted companies and individuals! The winners will be announced at this year's virtual ceremony, taking place in April 2021.
About the Awards
The Think Global Awards recognize the achievements of people, projects, brands, and organizations around the world. The Think Global Awards are brought to you by the Think Global Forum.
To learn more about the awards, please visit https://www.thinkglobalforum.org/awards
Media Contact
Priscillia Charles
Communications Director, Think Global Forum
priscillia@thinkglobalforum.org
https://www.thinkglobalforum.org