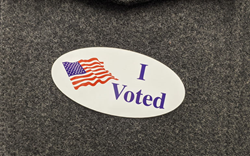 From politics to pandas, from business to bananas, stickers have played a major role in American culture since the 1950s.
LONGMONT, Colo. (PRWEB) January 13, 2020
The "Top 10" stickers in history have been selected to commemorate National Sticker Day on January 13th. From politics to pandas, from business to bananas, stickers have played a major role in American culture since the 1950s.
StickerGiant, the Colorado company that helped designate National Sticker Day and created Saul, the 370 lb. Guinness Award Winning World's Largest Sticker Ball, has researched the most important stickers in history. These are not stickers created by StickerGiant, but rather the stickers with the most historical and cultural significance.
StickerGiant was started in founder John Fischer's basement in 2000. Today, the Longmont, Colorado company employs 65 people and prints more than 100+ million stickers and labels a year. StickerGiant experts selected the following top 10 most influential and important stickers of all time. The stickers can be viewed in an online gallery, https://www.stickergiant.com/blog/top-ten-stickers-of-all-time-national-sticker-day-2020/.
1. Avery Labels. Ray Stanton Avery was an entrepreneur who in 1935 created the "Avery Kum Kleen Labels," the first stickers of the world.
2. The "I Voted" sticker, which traces its origins back to the 1982, when an article in the Miami Herald mentioned a business giving discounts to customers wearing the sticker. It has become so important, that even in an age of mail ballots, people receive "I Voted" stickers to wear proudly. Other influential political stickers of history include 1952's "I Like Ike," and of course, the one that started StickerGiant, "He's Not My President," which has consistently sold well since 2000, no matter who is president.
3. Lisa Frank Stickers. The Detroit artist started a school supply brand in 1979 that featured notebook stickers of rainbows, unicorns and panada bears that became incredibly popular with Gen Xers in the 1980s, who adorned their Trapper Keeper notebooks with the stickers. Lisa Frank's popularity has endured and the stickers are now a favorite of millennials.
4. COEXIST Stickers. Polish graphic designer Piotr Mlodozeniec created the now-iconic Coexist image in 2000 for an Israeli art contest themed "Coexistence." The original design was only the letters C, X, and T as symbols but now has been reinterpreted into many different concepts, with each letter as a different belief, from religion to other forms of expression.
5. "Andre the Giant Has A Posse" is a sticker from Shepard Fairey, who designed it in 1989 when he was a student at the Rhode Island School of Design (RISD). The concept then turned into a street art campaign of amazing influence.
6. The "Hello My Name Is" name tag sticker was first introduced by C-Line products in 1959, and the original size is still the classic 3.5 x 2.25 inch design.
7. "My Student is an Honor Student" Family car stickers. Printing historians give credit for the first bumper sticker to silkscreen printer Forest P. Gill of Kansas City, Kansas. During the post-war era of 1940s, he realized the self-adhesive paper used during the WWII for supplies and labels could be used to advertise promotional products. The Honor Student sticker later introduced in 2006 is viewed as the new-age version of children receiving merit from teachers or schools, a longstanding tradition dating back to the one-room schoolhouse.
8. The Chiquita Banana blue sticker is one of the most iconic symbols in the grocery store. For the Chiquita brand, the label is considered their calling card. In 1944, they debuted Miss Chiquita and then became the first company to label a banana. The idea of sticking labels on bananas started in 1963 because machines were too rough and bruised this delicate fruit. They still place a blue sticker on them by hand almost sixty years later.
9. The Grateful Dead "Steal Your Face" stickers featuring a skeleton head with a lightning bolt and a red-white-and-blue color scheme have been on a long, strange trip since the very beginning. As the Grateful Dead became a full-fledged cultural phenomenon in the 1970s, their fans started hitting the road to catch as many shows as possible. This was the first rock group to use stickers to such an effect.
10. The Oval-Shaped sticker. This shape traces its roots to Europe in the early 20th century. European countries came up with the idea of making it required to put a white oval-shaped sticker with black country initials on the back of all vehicles. This European custom became an international requirement in many countries after the U.N.'s Geneva Convention on Road Traffic (1949) and Vienna Convention on Road Traffic (1968). Now we see the oval circle sticker used in many different ways, with triathlon and running events, National Parks stickers, and other tourist attractions using the oval sticker style to express themselves and their passion.
ABOUT STICKERGIANT
Founded in 2000, StickerGiant is a thriving $22M business whose story is told by the people who build its success day in and day out. By creating amazing stickers and labels, StickerGiant helps individuals, groups, and businesses worldwide tell their own unique and often inspiring stories. StickerGiant is based in Longmont, Colo. More information: stickergiant.com.
MEDIA CONTACT: Joy Meadows, 303-522-9045, joy@meadowspr.com
Media Kit: stickergiant.com/press
National Sticker Day Info: http://www.stickergiant.com/national-sticker-day