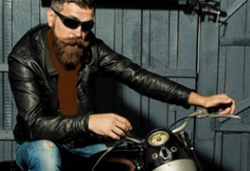 MIDDLESEX, N.J. (PRWEB) October 02, 2019
Prescription motorcycle glasses can be one of the best investments that you can make. If you wear regular glasses in your day-to-day life and also enjoy riding your motorcycle, these glasses can help you see clearly in the most challenging conditions. Critically, they can protect your eyes from flying debris like dust, sand, or gravel as you are traveling down a dirt road. Essentially, not only can prescription motorcycle glasses allow you to better enjoy your ride, but they can even save your life.
Because of these reasons, purchasing prescription motorcycle glasses can be a terrific idea. But that said, there is the question of where to purchase these glasses. We are lucky to be living in a world where there are many brick and mortar and digital eyewear retailers. However, there are five specific retailers that not only have a wide selection of prescription motorcycle glasses, but provide stellar customer service.
Ultimately, whether you are purchasing your first or next pair of prescription motorcycle glasses, we encourage you to check out the following retailers. Doing so will provide you with a seamless experience when searching for a terrific pair of prescription motorcycle glasses.
Five Stellar Companies Selling Prescription Motorcycle Glasses
1. Rx-Safety
Rx-Safety is one of the leaders in online eyewear today. Rx-Safety is a family-owned manufacturing company that specializes in all types of eyewear—including safety eyewear. Along with its online store, Rx-Safety has an optical lab that creates top-of-the-line prescription eyewear so that customers can be fully confident that they can see clearly while at work or play.
As far as prescription motorcycle glasses, Rx-Safety carries some of the most respected eyewear brands today. Some of its most popular prescription motorcycle glasses are manufactured by renowned names like Wiley X, 7Eye, Bolle, and Bobster. All models manufactured by these brands contain unique features (including different colors), and Rx-Safety provides a thorough description of every model on its individual product page. On that product page, you are also able to quickly see the different types of customization options that you can (and should) leverage.
Ultimately, Rx-Safety prides itself on customization, a large inventory of products, and great customer service. If you find a model that you like but want additional customization, the Rx-Safety team is happy to help. The Rx-Safety website also offers helpful filtering options so you can quickly find potential models that adhere to one feature—like frame color—that is important to you. Finally, Rx-Safety offers fast shipping so you can quickly receive your glasses and take on the open road.
2. VS Eyewear
VS Eyewear is another online eyewear retailer that provides several different kinds of prescription motorcycle glasses. Like Rx-Safety, VS Eyewear is a family-owned business that completes almost all of its work in-house. The ultimate goal of the company is to provide customers with "affordable, top-of-the-line eyewear, both prescription and non-prescription."
In the VS Eyewear online store, customers can find prescription motorcycle glasses from brands like Wiley X, Bobster, Spy, and Bolle. Upon visiting VS Eyewear's online store, customers can see a variety of different product categories and eyewear brands. Clicking on a particular model allows customers to view the product's features and customization options. Prescription orders take about two weeks before shipping and the company places a large emphasis on providing the best possible customer service. In sum, VS Eyewear can be an attractive option—whether or not this is your first time purchasing prescription motorcycle glasses.
3. MyEyewear2Go
MyEyewear2Go is the self-described "leader in prescription eyewear." Along with prescription motorcycle glasses, the company sells sunglasses, reading glasses, and more. Located in Middlesex, New Jersey, MyEyewear2Go is a full-service optical lab and online store. Like the other retailers above, the company does most of its work in-house. According to the company, it places an intense emphasis on the end-user, whether it is offering the best products or selling those products at the most affordable prices.
MyEyewear2Go, like the retailers above, offer a wide range of prescription motorcycle glasses. As Wiley X is the leader in this category, MyEyewear2Go carries a wide range of Wiley X prescription motorcycle glasses. Along with Wiley X, customers can find Bobster goggles, which can provide some of the best eye protection as you are riding your motorcycle down any type of road.
While MyEyewear2Go may not offer as many customization options as the other retailers on this list, the company offers affordable prescription motorcycle glasses that are shipped fast. Whether or not you have an idea of the type of prescription motorcycle glasses you want to purchase, it is worth taking the time to browse MyEyewear2Go's collection.
Marvel Optics, like other eyewear retailers on this list, says that it was created "with customers in mind" and "who are looking for quality eyewear at an affordable price." Marvel Optics is a relatively new company compared to others on this list (it was founded in 2009), and it promises to provide affordable and durable eyewear that is delivered quickly.
Marvel Optics, along with prescription motorcycle glasses, offers eyeglasses, sunglasses, and safety eyewear. Visitors to the Marvel Optics website can easily find glasses in these different categories or even search by brands. Some available brands in the Marvel Optics store include Hudson Optical, 3M, OnGuard, and Global Vision. Along with an extensive collection, Marvel Optics offers a 365-day guarantee, quick turnaround, and eyewear that is 100 percent lab tested for the highest accuracy.
5. FramesDirect
Finally, FramesDirect is another eyewear retailer that sells some great pairs of prescription motorcycle glasses. The company was founded by two optometrists in 1996 and claims that it was the "first website to offer prescription glasses online." The company also claims to have the world's largest selection of designer frames, giving customers the confidence that they will find their dream pair of glasses in FramesDirect's online store.
Visiting the company's website, customers can quickly browse through the different types of glasses that are available. As far as prescription motorcycle glasses, the company offers renowned brands like Wiley X, Oakley, and Bolle. Upon selecting a particular pair of glasses, customers can easily select different frame colors, frame sizes, and look at user ratings and reviews of the particular model.
FramesDirect claims that it has sold over one million frames. Along with free shipping, the company offers a price match guarantee, giving you the confidence that you are purchasing your next pair of prescription motorcycle glasses at the lowest price.
Finding a Great Pair of Prescription Motorcycle Glasses
While it may be somewhat overwhelming or intimidating to find your next pair of prescription motorcycle glasses, these five retailers can make the process much easier. Whether you choose to visit one of these retailers or all five of them, you can be confident that you will find your next great pair of prescription motorcycle glasses.
Whichever retailer you choose to use, it is also important to complete your own diligence. Review several different models from several different eyewear manufacturers. Spend some time thinking about the features that mean the most to you. Also, determine your budget and do your best to stay close to it. By putting in all of this hard work, you are sure to make the best decision for you.