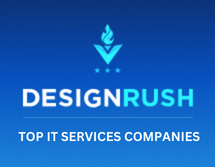 MIAMI (PRWEB) February 07, 2023
According to IDC, 80% of decision-makers around the world acknowledge the significance of digital infrastructure in achieving business goals, with many considering it mission-critical. This reflects the growing reliance on IT services and technology's integration into various aspects of business operations.
DesignRush, a B2B marketplace connecting businesses with agencies, identified the best IT services companies that help organizations accelerate their digital transformation journey and drive growth.
The top IT services companies in February are:
1. Protected Harbor - protectedharbor.com
Expertise: IT Support, Cybersecurity, Network Management and more
2. NewAgeSMB - newagesmb.com
Expertise: Enterprise Resource Planning, App Development, Software Quality Assurance and more
3. BroadWeb Digital - broadweb.com.au
Expertise: Website Hosting, Website Security Audit, Performance Optimization and more
4. Zigrin Security - zigrin.com
Expertise: Network Penetration Testing, Vulnerability Assessment, Source Code Review and more
5. Closer - closer.pt
Expertise: Business Intelligence, Artificial Intelligence, Advanced Analytics and more
6. Avenga - avenga.com
Expertise: Technology Consulting, Staff Augmentation, Cloud Consulting and more
7. Deimos - deimos.io
Expertise: Cloud Computing, Cloud Security, Platform Modernization and more
8. Vedant Techserve - vedant.biz
Expertise: IT Consulting, Cloud Solutions, App Development and more
9. Genzeon - genzeon.com
Expertise: Intelligent Automation, Analytics & Data Science, Cloud Enablement and more
10. ERP Buddies - erpbuddies.com
Expertise: ERP Licensing, ERP Integration, NetSuite Consulting and more
11. Sterling Technolabs - sterlingtechnolabs.com
Expertise: Big Data Analytics, Product Engineering, QA & Software Testing and more
12. Keeran Networks - keeran.ca
Expertise: IT Support, Data Security, IT Business Plan and more
13. Computer Repairs & Solutions - computertechgb.com
Expertise: PC Tech Support, Online Remote Support, Data Recovery and more
14. Connect Cause - connectcause.com
Expertise: Managed IT, Cloud Managed Services, Managed Security and more
15. ClevrOne - clevrone.ai
Expertise: Cloud Strategy, Cloud Security, Cloud Managed Services and more
16. EverHigher - ehsi.co
Expertise: IT Management, IT Setup, Data Analytics and more
17. XB Software - xbsoftware.com
Expertise: Software Development, IT Outsourcing, Staff Augmentation and more
18. 5w155 - 5w155.ch
Expertise: Staff Augmentation, Software Development, Project Management and more
19. Raise Networks - raisenetworks.com
Expertise: Managed IT, Business Strategy, Application Integrations and more
20. STI Managed Services - stimsp.com
Expertise: Technology Assessment, Full Service IT, Asset Management and more
21. Dspars Digital Lab - dspars.io
Expertise: IT Consulting, QA & Automation, Cloud Development and more
22. Ancient - ancient.mx
Expertise: Big Data & Analytics, IT Consulting, IT Staffing and more
23. Velvetech - velvetech.com
Expertise: Managed IT, Business Technology Consulting, Software Development and more
24. Flux Digital Labs - fluxdigitallabs.com
Expertise: Marketing Automation, Tech Stack Integration, Analytics & Reporting and more
25. PC Methods - pcmethods.com
Expertise: IT Support, Network Security, Web Security and more
26. PCR Staffing - pcr.net
Expertise: Staff Augmentation, IT Recruitment, HR & Administration and more
27. Krazy Mantra - krazymantra.com
Expertise: IT Services, ERP Solutions, Hardware & Networking Solutions and more
28. Softude - softude.com
Expertise: Digital Advisory, Cybersecurity, Staff Augmentation and more
29. Smart IS International - smart-is.com
Expertise: Business Domains, Cloud & Tech Services, Data Management and more
30. Phungela - phungela.co.za
Expertise: ICT Strategy, IT Project Management, Cybersecurity and more
Brands can explore the top IT services companies by location, size, average hourly rate and portfolio on DesignRush.
About DesignRush:
DesignRush.com is a B2B marketplace connecting businesses with agencies through expert reviews and agency ranking lists, awards, knowledge resources and personalized agency recommendations for vetted projects.