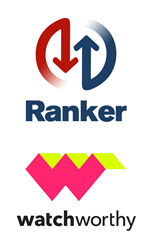 "The data science behind Watchworthy doesn't lie. Using Watchworthy data, we can generate some excellent insight into the constantly changing streaming wars and the tastes of streamers everywhere." - Clark Benson
LOS ANGELES (PRWEB) March 11, 2021
Ranker, known as the world's leading publisher for fan-powered rankings on just about everything with over one billion votes, just announced the Top Streaming Networks and TV Shows for the month of February 2021 according to users of the TV recommendation app Watchworthy.
Top lists for 2021 were created using data from Watchworthy, a free app that offers personalized TV recommendations and allows users to build their own watchlist from TV networks and over 200 streaming services such as Netflix, HBO Max, Disney+, Hulu, Amazon Prime, Apple TV+, and many more. In just 30 seconds, Watchworthy gets to know users' specific tastes in TV and recommends new shows they're statistically more likely to love.
By relying on the Watchworthy algorithm, which itself relies on the "Likes" and "Dislikes" of Ranker and Watchworthy users, 'Worthy' scores give a sense of not just what's popular, but what's trending in TV today. The data from aggregated Worthy scores therefore tell which shows are most rapidly growing their fanbase for the second month of 2021, as well as the platforms where those shows are available to stream.
"The data science behind Watchworthy doesn't lie. And since its launch in March of 2020 and through the pandemic, people are continuing to share their 'Watchlists' chalk full of personalized 'Worthy' shows with friends and family," said Clark Benson, CEO and founder at Ranker. "Using Watchworthy data, we can generate some excellent insight into the constantly changing streaming wars and the tastes of streamers everywhere."
Here's what the data showed:
STREAMING SERVICES
Over the month of February, Watchworthy tracked each time a show received a Worthy score of 80% or higher, then organized all those shows according to Networks. The resulting analysis allowed us to determine which network's content is being recommended to the most users.
#1: Netflix's Lead Is Suddenly Precarious
HBO Max's gain has been Netflix's loss. Despite the fact that The Witcher soared becoming the #2 most highly recommended show in February, other mainstays like Sex Education and Chilling Adventures of Sabrina saw big drops in recommendations. Also, The Umbrella Academy dropped from second place to fourth place. If this trend continues, HBO Max could overtake Netflix for the first time next month.
#2: HBO Max Surges into Second
Not only did HBO Max jump from fourth place in January to second place in February, it is now a mere six percentage points away from Netflix — in January, the deficit between Netflix and its closest competitor was 23%. Much of this jump can be attributed to Euphoria. As we predicted, the late January release of Euphoria Special Episode: Part II ended up boosting the network. But HBO Max shows across the board saw an increase in recommendations, including the recent release of major films like Judas and the Black Messiah, The Little Things, and Tom & Jerry: The Movie.
#3: Amazon Holds Steady
Prime Video's share of high recommendations dropped a percentage point in February, but it kept its third place spot while Hulu and HBO swapped positions around it. The show's biggest asset in Watchworthy, The Boys, fell from the Top 5 this month, but that loss was offset by strong performances from shows like The Expanse and Teen Wolf.
#4: Disney+ Pushes Ahead
Though it's still relying on its two most popular shows, The Mandalorian and The Simpsons, the resiliency of those shows has allowed Disney+ to take its highest position in the rankings so far. What's more, Wandavision is all but guaranteed to strengthen the service's position: in just the first three days of March 2021, the show was tied for fourth most Watchworthy show overall.
#5: Hulu Falls to Fifth
Hulu shows weren't recommended nearly as highly this month as they were in January. Only three shows performed well enough to merit mention here: Rick and Morty, Family Guy, and Fargo. Since the highest performing of them is also available to stream on HBO Max, these shows weren't enough to put Hulu within striking range of its surging competitor.
#6: Peacock Unable to Maintain January Momentum
Peacock's strong start has been undercut by a setback in February, with both The Office and The Good Place seeing considerable drop-offs in recommendations. It remains to be seen whether a crop of new shows like Mr. Mayor, Kenan, and Young Rock will buoy the service in a competition that rewards trending content better than established, highly popular shows.
TV SHOWS
Below is a list of the Top 20 TV shows and streaming platforms given the highest Worthy scores to Watchworthy users throughout the month of February 2021:

1. The Mandalorian — Disney+
2. The Witcher — Netflix
3. Euphoria — HBO Max
4. The Umbrella Academy — Netflix
5. Rick and Morty — Hulu/HBO Max
6. The Boys — Amazon Prime Video
7. Game of Thrones — HBO Max
8. Stranger Things — Netflix
9. South Park — HBO Max
10. The Expanse — Amazon Prime Video
11. The Vampire Diaries — Netflix
12. Chernobyl — HBO Max
13. Mindhunter — Netflix
14. Westworld — HBO Max
15. Family Guy — Hulu
16. Sex Education — Netflix
17. Unsolved Mysteries — Netflix
18. Teen Wolf — Amazon Prime Video
19. The Wire — Netflix
20. Breaking Bad — Netflix
Watchworthy is the only statistically relevant, crowd-sourced TV recommendation app available to consumers which uses algorithms from a unique panel of one million high-intent TV fans voting on over 13,000 TV shows on Ranker.
To learn more, please visit the data story Who Won the Streaming Wars in February 2021, including Ranker's Insights Scoop blog to find out more about Watchworthy.
About Ranker
Ranker, attracting more than 30 million monthly unique visitors worldwide, is the leader in fan-powered rankings on just about everything. Whatever the topic - TV, movies, video games, sports, brands, food, lifestyle - Ranker puts the vote into the hands of millions rather than a few critics to answer the questions we are most passionate about. Over 1 billion votes now power Ranker Insights, a treasure trove of psychographic correlation data that delivers personalized consumer recommendations ("if you like X, you'll also like Y, Z"), and also audience insights to marketers, studios, and platforms seeking a deeper understanding of consumer tastes and preferences. Launched in 2020 and powered by Ranker Insights, Watchworthy is the only statistically relevant, crowd-sourced TV recommendation app available to consumers. Ranker is listed on 2020's Inc 5000 and Inc. 5000: California Series, Deloitte's 2019 Technology Fast 500 featuring the fastest growing companies in North America and Built In LA's Top 50 Mid-Sized Companies To Work For in 2020 & 2021, and No. 5 on Fast Company's World's Most Innovative Companies for 2021. Headquartered in Los Angeles with over 115 employees, Ranker also has an office in NYC.