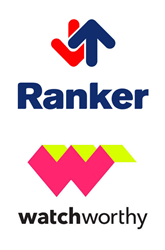 "The enormous amount of first-party data Watchworthy is collecting allows us to have truly unique insights into the ever-evolving streaming wars and what content streamers love to consume." -CEO Clark Benson
LOS ANGELES (PRWEB) April 15, 2021
Ranker, known as the world's leading publisher for fan-powered rankings on just about everything with over one billion votes, just announced the Top Streaming Networks and TV Shows for the month of March 2021 according to users of the TV recommendation app Watchworthy.
Top lists for 2021 were created using data from Watchworthy, a free app that offers personalized TV recommendations and allows users to build their own watchlist from TV networks and over 200 streaming services such as Netflix, HBO Max, Disney+, Hulu, Amazon Prime, Apple TV+, and many more. In just 30 seconds, Watchworthy gets to know users' specific tastes in TV and recommends new shows they're statistically more likely to love.
It's one thing to know how many people are sitting in front of how many televisions to watch however many shows at any given time. But what that doesn't tell you are the ideas about the shows streamers are watching, about why they're watching it, about how it's similar to or different from the dozens of other shows they love. And the only place where one can find cold, hard data on all those opinions is Watchworthy.
By relying on the Watchworthy algorithm, which itself relies on the "Likes" and "Dislikes" of Ranker and Watchworthy users, 'Worthy' scores give a sense of not just what's popular, but what's trending in TV today. The data from aggregated Worthy scores therefore tell which shows are most rapidly growing their fanbase for the third month of 2021, as well as the platforms where those shows are available to stream.
"It's been one year since we launched Watchworthy and we're excited to see so many streamers continuing to use the app to create 'Watchlists' and share them with family and friends," said Clark Benson, CEO and founder at Ranker. "The enormous amount of first-party data Watchworthy is collecting allows us to have truly unique insights into the ever-evolving streaming wars and what content streamers love to consume."
Here's what the data showed:
STREAMING SERVICES
Over the month of March, Watchworthy tracked each time a show received a Worthy score of 80% or higher, then organized all those shows according to Networks. The resulting analysis allowed us to determine which network's content is being recommended to the most users.
#1: Netflix Is Back with a Vengeance
Netflix had its biggest lead to date on the Watchworthy leaderboards, grabbing a whopping 52% of strong recommendations to become the #1 most Watchworthy service for the fifth straight month. The lead is largely propped up by reliable winners like Stranger Things and Grey's Anatomy, The Walking Dead, and The Queen's Gambit.
#2: HBO Max Holds onto Second Place
HBO Max's lead over its more established competitors remains comfortable. Euphoria's continued success has a lot to do with that strength, protecting HBO from losing too much share even as Rick and Morty dropped suddenly from the Top 20.
#3: Hulu's Small Gains Push it to a Tie for Third
Hulu did manage to grow its share of strong recommendations by 2%, which was all it took to push it up from fifth place in February to a tie for third place in March. But Hulu's story remains pretty much the same month-to-month: it's held up by popular, fairly old shows like Family Guy and Futurama. It'll take some newer and less established content to push Hulu ahead.
#4: Amazon Is Sitting Still
Amazon is dealing with a problem similar to the one faced by Hulu: as The Boys fades from the TV conversation, it's relying on older, acquired properties like Teen Wolf to hold it up. While they avoided a loss this month and can technically still claim third place, the service appears to be treading water.
#5: Disney+ Waiting to Convert on Original Content
Why did Disney+'s share of strong recommendations drop this month? Our algorithm gave fewer recommendations in February than it did in March simply because February is three days shorter. Still, as WandaVision continues to grow its following, and with the release of The Falcon and the Winter Soldier, there's still plenty of reason for Disney to be optimistic.
#6: Peacock's Drop Continues
Just two shows on Peacock got over 50 strong recommendations this month: The Office and Zoey's Extraordinary Playlist. One is an old standby that most TV viewers are familiar with, and the other is a newer series that is struggling to grow its base. It will take a big change to keep Peacock in the fight, especially as Paramount+ emerges.
TV SHOWS
Below is a list of the Top 20 TV shows and streaming platforms given the highest Worthy scores to Watchworthy users throughout the month of March 2021:

1. The Mandalorian — Disney+
2. Euphoria — HBO Max
3. The Walking Dead — Netflix
4. Westworld — HBO Max
5. The Queen's Gambit — Netflix
6. The Witcher — Netflix
7. Stranger Things — Netflix
8. Teen Wolf — Amazon Prime Video
9. WandaVision — Disney+
10. Unbelievable — Netflix
11. Unsolved Mysteries — Netflix
12. Family Guy — Hulu
13. Grey's Anatomy — Netflix
14. The Flash — Netflix
15. Mindhunter — Netflix
16. The Vampire Diaries — Netflix
17. Shameless — Netflix
18. The Boys — Amazon Prime Video
19. Locke and Key — Netflix
20. Game of Thrones — HBO Max
Watchworthy is the only statistically relevant, crowd-sourced TV recommendation app available to consumers which uses algorithms from a unique panel of one million high-intent TV fans voting on over 13,000 TV shows on Ranker.
To learn more, please visit the data story Who Won the Streaming Wars in March 2021, including Ranker's Insights Scoop blog to find out more about Watchworthy.
About Ranker
Ranker, attracting more than 30 million monthly unique visitors worldwide, is the leader in fan-powered rankings on just about everything. Whatever the topic - TV, movies, video games, sports, brands, food, lifestyle - Ranker puts the vote into the hands of millions rather than a few critics to answer the questions we are most passionate about. Over 1 billion votes now power Ranker Insights, a treasure trove of psychographic correlation data that delivers personalized consumer recommendations ("if you like X, you'll also like Y, Z"), and also audience insights to marketers, studios, and platforms seeking a deeper understanding of consumer tastes and preferences. Launched in 2020 and powered by Ranker Insights, Watchworthy is the only statistically relevant, crowd-sourced TV recommendation app available to consumers. Ranker is listed on 2020's Inc 5000 and Inc. 5000: California Series, Deloitte's 2019 Technology Fast 500 featuring the fastest growing companies in North America and Built In LA's Top 50 Mid-Sized Companies To Work For in 2020 & 2021, and No. 5 on Fast Company's World's Most Innovative Companies for 2021. Headquartered in Los Angeles with over 115 employees, Ranker also has an office in NYC.