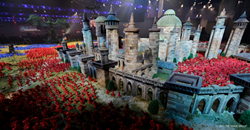 Chavez explains, "At The Trade Group, we're fortunate to work with clients like Blizzard who really want to push creative boundaries...Bringing the WoW diorama to life was a huge undertaking...sharing the journey with our AMA community & being named as a Marketing Innovator was really special."
DALLAS (PRWEB) November 13, 2018
On October 25, 2018, The Trade Group was recognized by the American Marketing Association's (AMA's) DFW chapter as a 2018 Top 3 Marketing Innovator for its role in creating the world's largest video game diorama for Blizzard Entertainment. The 1,300+ sq. ft. World of Warcraft game diorama with 10K+ unique 3-D figurines was featured at Blizzard's annual gaming convention Blizzcon 2017.
This is the first year AMA DFW has presented the Top 3 Marketing Innovator honors, which recognizes the most impactful marketing innovation launches originating from the Dallas-Fort Worth area. Along with The Trade Group and Blizzard, other honorees included DART for its GoPass® app re-launch and Frito-Lay North America for its Spotted Cheetah pop-up event.
Following the awards presentation, representatives from each of the three companies, including The Trade Group's Marketing Director Stephanie Chavez, presented case studies on their respective projects. Chavez, Robbie Douglas from Dart and Brandi Ray from Frito-Lay described their projects in detail and explained what it takes to push the boundaries of marketing innovation in today's competitive business landscape. The case study presentations were followed by a panel discussion with Chavez, Douglas and Ray, as well as a Q&A session.
Chavez was delighted to represent The Trade Group at the event. As she explains, "At The Trade Group, we're fortunate to work with clients like Blizzard who really want to push creative boundaries in everything they do. Bringing the World of Warcraft diorama to life was a huge undertaking for our team, so sharing the journey of how the project evolved with our local AMA community and being named as a Marketing Innovator was really special."
The AMA DFW honor wasn't the first time Blizzard's World of Warcraft diorama has been recognized. Along with earning a Guinness Book of Records designation as the largest video game diorama in the world, the installation was also named the winner of the Promax Games "Thinking Outside of the Box" Award for 2018.
To learn more about The Trade Group's innovative marketing solutions for trade shows, live events, gaming conventions and more, call 800-343-2005 or visit http://www.tradegroup.com.
About The Trade Group
The Trade Group is an award winning, full-service event marketing and creative design firm, specializing in trade shows, esports events and activations, corporate events, brand activations, retail merchandising, commercial graphics and experiential solutions. Since 1986, the company's team of live event, design and engineering experts has helped thousands of clients amplify their brands and successfully navigate a wide range of events and experiences. Clients rely on The Trade Group for: event ideation, creation and production; esports expertise; exhibit design and fabrication; graphic design and production; strategic marketing solutions; technology integration and more.