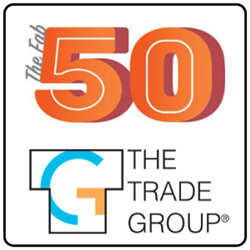 According to Stone, "Our team strives every day to provide innovative and cost-effective solutions for our exhibit clients. We do so in an industry that continues to be highly-competitive and dynamic, so it is indeed an honor to be named as one of Event Marketer's Fab 50 once again."
DALLAS (PRWEB) January 23, 2020
The Trade Group, an award winning, event marketing and experiential design firm, is pleased to announce that it has been named to Event Marketer's Fab 50 list for 2019. Event Marketer, a print and digital publication for the trade show and live event industry, developed the Fab 50 directory to help trade show teams, event departments and procurement officers narrow down their options for fabrication vendors.
According to Chris Stone, President and CEO of The Trade Group, "Our team strives every day to provide innovative and cost-effective solutions for our exhibit clients. We do so in an industry that continues to be highly-competitive and dynamic, so it is indeed an honor to be named as one of Event Marketer's Fab 50 once again."
To be considered as one of the Fab 50, fabricators endure a rigorous application and review process. Event Marketer also looks far beyond fabrication when choosing its top exhibit builders. The judging panel considers each company's ability to work as a strategic partner and integrate technology into builds that amplify experiences, boost engagement and meet marketing objectives.
Each year, Event Marketer also seeks to "identify and highlight the differences between and among the best ones." The publisher also recognizes that "each offer their own unique cultures, specialties and service offerings."
As noted in its Fab 50 listing, The Trade Group is a fabricator that works in any industry but is one that has carved a niche in video gaming and esports. The listing also touts the company's work for clients Facebook Gaming, Wargaming and Twitch, as well as the gaming stations, creator cubes, AR, VR, life-sized scenics and live entertainment The Trade Group has integrated into exhibits for global events like gamescom and others.
"Creating unique exhibits and engaging experiences that help our clients achieve success is something that really drives us. We look forward to speaking with any new prospective clients that the Fab 50 directory brings our way, " Stone says.
To learn more about The Trade Group's exhibit design and fabrication services and solutions for trade shows, experiential activations and other live events, visit http://www.tradegroup.com or call 800-343-2005 to speak with a sales consultant.
ABOUT THE TRADE GROUP
The Trade Group is an award winning, full-service event marketing and creative design firm, specializing in trade shows, esports events and activations, corporate events, brand activations, retail merchandising, commercial graphics and experiential solutions. Since 1986, the company's team of live event, design and engineering experts has helped thousands of clients amplify their brands and successfully navigate a wide range of events and experiences. Clients rely on The Trade Group for: event ideation, creation and production; esports expertise; exhibit design and fabrication; graphic design and production; strategic marketing solutions; technology integration and more.