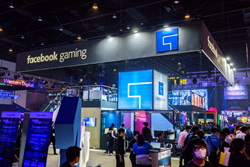 Says Hajra, "The Prime Minister only visited two stands during the event, which speaks volumes about the Facebook brand. We're honored that Facebook Gaming has entrusted us with its gaming show needs and can't wait until the next event."
DALLAS (PRWEB) November 07, 2018
Facebook Gaming, the social media giant's live streaming platform and hub for gamers, has been making the rounds at top video gaming shows worldwide. Since its launch earlier this year, the company has relied on The Trade Group for exhibit design, installation and onsite support for its trade show efforts.
In October, The Trade Group traveled with Facebook Gaming to Bangkok, Thailand for the Thailand Game Show at the Royal Paragon Hall, the largest gaming event in Southeast Asia. During the three-day event, the Facebook Gaming booth won the Best Exhibitor Award.
According to Neeshu Hajra, VP of Business Development at The Trade Group, "We were delighted to create this award-winning exhibit for Facebook Gaming. The client really wanted to exceed fan expectations at the show, which we were able to accomplish with the amped up exhibit we designed."
While the booth was similar to exhibits Facebook Gaming has used at other gaming shows, it was larger and more robust. The 225 sq. meters of space included a large content stage, two creator corners for live streaming, four gaming stations, two Oculus virtual reality stations and more.
"The exhibit really stood out because the design was truly stunning and there was so much for attendees to do in the space. It wasn't just a stage. It wasn't just seeing popular influencers streaming. It was so much more. We even had to build a second story to accommodate everything," Hajra explains.
The Best Exhibitor Award was followed by a visit from Prime Minister of Thailand Prayut Chan-o-cha, who drew a packed crowd of gaming fans as he checked out various aspects of the Facebook Gaming booth.
Says Hajra, "The Prime Minister only visited two stands during the event, which speaks volumes about the Facebook brand. We're honored that Facebook Gaming has entrusted us with its gaming show needs and can't wait until the next event."
To learn more about The Trade Group's trade show exhibit design, event marketing and esports consulting services call 800-343-2005 or visit http://www.tradegroup.com.
About The Trade Group
The Trade Group is an award winning, full-service event marketing and creative design firm, specializing in trade shows, esports events and activations, corporate events, brand activations, retail merchandising, commercial graphics and experiential solutions. Since 1986, the company's team of live event, design and engineering experts has helped thousands of clients amplify their brands and successfully navigate a wide range of events and experiences. Clients rely on The Trade Group for: event ideation, creation and production; esports expertise; exhibit design and fabrication; graphic design and production; strategic marketing solutions; technology integration and more.