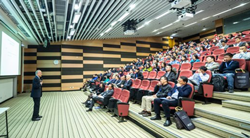 Automating patient financial interactions at scale improves patient experiences and radically reduces costs. At the same time, its enthusiastic acceptance by patients improves hospital competitiveness and the opportunity for market share growth. - Kevin Fleming, CEO, Loyale Healthcare
LAFAYETTE, Calif. (PRWEB) October 14, 2020
To be sure, healthcare is and should be credited for its remarkable adaptability in the wake of the COVID-19 crisis. Well before the national emergency was proclaimed, hospitals and other providers began working to shore up capacity and overcome the scarcity of personal protective equipment (PPE). More than that, though, healthcare exhibited the kind of rapid innovation that was all too rare across the industry before the crisis.
Given the success of innovations like the ramp-up of telehealth and the extreme stress placed on healthcare providers and their patients since the crisis began, it's easy to understand why so many are speculating about the future of the industry. But regardless of the source, the clear consensus among industry experts and watchers is that healthcare will emerge from this crisis with a mandate for continued transformation.
McKinsey & Company explored the speed of the industry's response to the crisis in analysis published just last week titled, "The great acceleration in healthcare: Six trends to heed." In it, the global consulting firm calls out previous analysis stating, "The fault lines between industries and business models that we understood intellectually before the crisis have now become giant fissures, separating the old reality from the new one." Addressing the difference between old and new, the article's introduction concludes that, "As US healthcare leaders set the direction for their organizations, six trends stand out."
Those six trends are:
1. Reform
2. Health for all
3. Era of exponential improvement unleashed
4. The big squeeze
5. Fragmented, integrated, consolidated care delivery, and
6. Next generation managed care accelerated.
The analysis goes on to elaborate on the six trends from a macro level, but we're drilling down into the hospital operating function that we are proficient in, revenue cycle - or more specifically - patient revenue cycle.
Reform
In the area of reform, the McKinsey analysis frames healthcare's potential "along three dimensions: COVID-19-era waivers that could become permanent; actions that may be taken to strengthen the healthcare system to deal with pandemics; and reforms to address the COVID-19-induced crisis." Noting that "the crisis has revealed areas that could improve the resilience of the system," it goes on to list opportunities to control future viral spreads and improve resilience (e.g. supply chain and the ability to "flex up critical care capacity and clinical workforce"). The section on reform concludes by calling attention to the economic impact of COVID-19, noting "historic economic pressures across federal and state governments, corporations, and American households."
This kind of economic dislocation, the analysis notes, "has often been followed by major healthcare reform." The analysis' report that as many as "10 million Americans may lose employer-sponsored healthcare coverage by the end of 2021" underscores a growing economic phenomenon we have pointed out before. In an article published this summer titled, "Healthcare Affordability is More Than a Problem. It's a Crisis" we cited research confirming that Americans were struggling to pay their portion of healthcare bills long before the COVID crisis began. The coronavirus is making it worse.
In the article, we explored aggressive regulatory pressure from the U.S. Dept. of Health and Human Services (HHS) and its agency, The Center for Medicare and Medicaid Services (CMS) to improve price transparency and eliminate surprise medical bills among other objectives. This pressure has not abated during the crisis and the economic conditions created by the crisis will only deepen the will of regulators and legislators to do more. The choice for providers is whether to merely comply with regulatory requirements, or to get ahead of the curve by embracing technology, like Loyale's Patient Financial Manager, engineered to reduce the financial barriers to patient care.
Health for All
The second trend, Health for all, notes that the pandemic "has amplified existing inequitable health outcomes (along) five intersecting health and social conditions…correlated with poorer health outcomes." These include physical health (those with chronic conditions, the immune-compromised); behavioral health challenges ("individuals at an increased risk of developing severe COVID-19 symptoms are nearly twice as likely to have a behavioral health condition"); Unmet social needs (food or housing insecurity, high unemployment); racial inequity and access to care, including mental health care.
For patients and prospective patients who fall into one or more of these five areas, affordability often imposes a barrier to healthcare. In Research published by the Kaiser Family Foundation "thirty four percent of insured adults say it is either "very difficult" or "somewhat difficult" for them to afford to pay their deductible. Other research reports that as many as half of Americans are avoiding or delaying care because they don't think they can afford their out-of-pocket. Again, clearly, the issue of "health for all" is directly affected by the affordability of care. Hospital policies should be adjusted, as they are in nearly every other industrial sector, to bring the purchase price of their service within reach.
The Era of Exponential Improvement Unleashed
Trend number 3, the "Era of exponential improvement unleashed" addresses healthcare's COVID-inspired investments in technology to overcome operational challenges and radically improve operating efficiency. The McKinsey & Company analysis reports "that health systems, primary care and behavioral health practices are reporting increases of more than 50-175 times in telehealth visits, and the potential market size for virtual care could reach around $250 billion." Telehealth and other virtual care delivery channels, with their inherently clinical focus, however, represent an incomplete solution to patients' real requirements.
Recently, we published analysis titled, "Patients Love Virtual Health. Digital Financial Engagement Makes it Better." In it, we pointed out that "To achieve a truly patient centric experience, hospitals and health systems must expand their vision for virtual care to include every patient experience in every setting." Pointing out the financial obstacles to care – even virtual care – the analysis envisions the integration of technology to "reliably present non-emergent patients with price estimates that include their projected out-of-pocket…so patients can make informed judgments about whether and where to seek care." As mentioned above, this integrated technology also provides for provider – patient interactions to improve affordability.
The Big Squeeze
The fourth trend – The big squeeze – studies the immense pressure on healthcare revenues because of the crisis, and the lasting economic challenges attributable to reduced state tax levels (Medicaid), a higher percentage of uninsured patients and possible coverage reductions by employers. The McKinsey analysis "estimate(s) that COVID-19 could depress healthcare industry earnings by between $35 billion and $75 billion compared with baseline expectations." At the same time, however, it estimates that "between $280 billion and $550 billion in opportunity within healthcare delivery by 2028 achievable through productivity gains."
We studied this opportunity in analysis titled, "Five Critical Operational and Financial Capabilities Required for Healthcare's Financial Survival." These included: 1) Contactless patient financial engagement, 2) Patient population segmentation, 3) Scalable, personalized omni-channel communications, 4) Affordability options (like those described above), and 5) end-to-end patient payment analytics. Critically, all the work associated with these technologies is conducted digitally. Providers that employ these systems can reduce operating costs by tens of millions or more, depending on their size.
Fragmented, Integrated, Consolidated Care Delivery
Trend number five – "Fragmented, integrated, consolidated care delivery," explores the "shift of care out of hospitals," pointing out that "Care in the next normal could be increasingly delivered in distributed sites of care, integrated around the patient through digital and analytics across patient-centered ecosystems." Here, of course, the operative concept is the notion of technology-enabled patient centricity, which our experiences have proven can have profound financial implications for providers of all kinds.
For example, the Loyale Patient Financial Manager™ technology platform seamlessly integrates the patient's financial experiences across complex care delivery networks, following the patient to every setting throughout the course of treatment. It then consolidates multiple bills into one single bill which is then presented digitally, where it can either be paid in full or included in the patient's new or existing payment plan.
Next Generation Managed Care Accelerated
The sixth and final trend, "Next generation managed care accelerated", focuses on payers (health insurance companies), the changing economics of shifting costs to already overburdened employees, and the better financial performance achieved by payers that integrate more deeply with care delivery. Calling on the industry to consider restructuring, it references Medicare Advantage and its more active influence on patient treatment.
From a hospital and health system financial perspective, we view managed care as another threat to revenue. However, as with the other revenue pressures described above, the challenge can be overcome through improved efficiencies and higher revenues. Platform-enabled patient financial engagement offers a path toward both. Automating patient financial interactions at scale improves patient experiences and radically reduces costs. At the same time, enthusiastic acceptance by patients improves hospital competitiveness and the opportunity for market share growth.
At Loyale, we're optimistic about the future of health systems and hospitals. COVID-19 has stimulated game-changing innovation and organizational resilience that have already set the stage for healthcare's next and greatest act. We're proud to be a part of that transformation.
Kevin Fleming is the CEO of Loyale Healthcare.
About Loyale
Loyale Patient Financial Manager™ is a comprehensive patient financial engagement technology platform leveraging a suite of configurable solution components including predictive analytics, intelligent workflows, multiple patient financing vehicles, communications, payments, digital front doors and other key capabilities.
Loyale Healthcare is committed to a mission of turning patient responsibility into lasting loyalty for its healthcare provider customers. Based in Lafayette, California, Loyale and its leadership team bring 27 years of expertise delivering leading financial engagement solutions for complex business environments. Loyale currently serves approximately 12,000 healthcare providers across 48 states. Loyale is proud to have an enterprise-level strategic partnership with Parallon which includes the deployment of Loyale's industry leading technology at all HCA hospitals and Physician Groups.