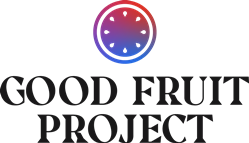 Through open dialogue and education, we can change hearts and minds and save young LGBTQ lives.
NEW YORK (PRWEB) December 17, 2020
Today, The Trevor Project and Q Christian Fellowship partnered to launch a new initiative, entitled "The Good Fruit Project," aimed at educating people of faith, particularly Christians, about how efforts to change LGBTQ youth's sexual orientation and gender identity are detrimental to their mental health and well-being. The Good Fruit Project demonstrates that these efforts to change LGBTQ identities unequivocally bear bad fruit.
With the launch of The Good Fruit Project comes a new website and comprehensive educational resource outlining the faith- and research-based evidence against conversion therapy, or any of several dangerous and discredited practices aimed at changing an individual's LGBTQ identity. The partnership represents a bold effort to bring together theological and secular perspectives within the LGBTQ community to foster greater understanding, prevent dangerous change efforts, and save young lives. The hope is that people of faith will come to understand that the path to truly loving their LGBTQ friends, family, and neighbors is not through spiritual conversion therapy — but through wholehearted acceptance and grace.
"As a Christian and a survivor of conversion therapy, I always wished there were more resources dedicated to improving education and understanding around LGBTQ issues in communities of faith. That's why The Good Fruit Project exists — to spark long-overdue conversations in churches, bible studies, and faith-based groups across the country, and prevent well-intentioned families from subjecting their kids to the horrors of conversion therapy," said Sam Brinton (they/them pronouns), Vice President of Advocacy and Government Affairs for The Trevor Project. "The Trevor Project is incredibly excited and grateful to partner with Q Christian Fellowship on this bold initiative. Through open dialogue and education, we can change hearts and minds and save young LGBTQ lives."
Twenty states and more than 80 municipalities have successfully passed legislation protecting LGBTQ youth from conversion therapy by licensed health care professionals. However, these laws do not address most conversion therapy that is done by unlicensed religious ministries. The Trevor Project's 2020 National Survey of over 40,000 LGBTQ youth in the U.S. found that 10% of respondents reported undergoing conversion therapy, with more than half of those youth reporting it occurred with a religious leader.
"We are proud to unveil alongside The Trevor Project, The Good Fruit Project, our joint effort to address the pervasive harm of ex-gay narratives and so-called conversion therapies that for too long have undermined the Good News of God's love in Christ and threatened the lives of vulnerable LGBTQ+ people throughout the Church and beyond. Through our UNCHANGED Movement, we've received heart-wrenching stories from survivors of change-attempts whose lives have been derailed as a result of these efforts," said Bukola Landis-Aina (she/her pronouns), Executive Director of Q Christian Fellowship. "Our aim is to urge Christians, regardless of their denomination or theological beliefs on sexuality and gender identity, to live up to their calling of protecting the marginalized and oppressed. This calling to cultivate Good Fruit in the lives of all God's children should unite us all."
Research demonstrates that conversion therapy is strongly associated with an increased risk for suicide. According to a peer-reviewed study by The Trevor Project, LGBTQ youth who had undergone conversion therapy were more than twice as likely to report having attempted suicide as those who did not. The Good Fruit Project aims to spark much-needed, difficult conversations around the negative impacts of spiritual conversion therapy and ex-gay theology among Christian leaders and groups, and communities of faith across the country.
About Q Christian Fellowship
Q Christian Fellowship (formerly the Gay Christian Network) is the largest organization of LGBTQ+ Christians in the world. Q Christian Fellowship exists to cultivate radical belonging for LGBTQ+ Christians alongside their parents and allies. Q Christian hosts an international gathering of LGBTQ+ Christians and allies each January and provides Guides, internationally-attended Community Groups, and other resources to connect LGBTQ+ people along their journey of reconciling their faith, sexuality, and gender identity as well as providing resources and gatherings for parents, clergy, and allies. Q Christian has also launched The UNCHANGED Movement, an affirmative counter to the damage wrought in the name of God through ex-gay theologies and philosophies. Through UNCHANGED, Q Christian Fellowship proclaims God's love and affirmation of LGBTQ experiences, identities, and expressions of selves, embracing God's beautifully crafted rainbow of creation.
About The Trevor Project
The Trevor Project is the world's largest suicide prevention and crisis intervention organization for lesbian, gay, bisexual, transgender, queer & questioning (LGBTQ) young people. The Trevor Project offers a suite of 24/7 crisis intervention and suicide prevention programs, including TrevorLifeline, TrevorText, and TrevorChat as well as the world's largest safe space social networking site for LGBTQ youth, TrevorSpace. Trevor also operates an education program with resources for youth-serving adults and organizations, an advocacy department fighting for pro-LGBTQ legislation and against anti-LGBTQ rhetoric/policy positions, and a research team to discover the most effective means to help young LGBTQ people in crisis and end suicide.