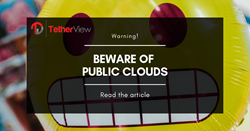 OCEANPORT, N.J. (PRWEB) October 29, 2018
Saying that cloud computing services have taken over is an understatement. There are a few companies that dominate the market and the largest ones are called public clouds. Many are drawn to public clouds because of their sheer volume of services available, as well as a substantial amount of brand recognition. However, that doesn't mean a public cloud is cost-effective for everyone. In fact, public clouds can easily be more expensive than going with a custom private cloud or even maintaining an on-premises infrastructure.
Consumption-Based Billing
Public clouds largely use consumption-based billing. Organizational inbound and outbound bandwidth requirements dictate a substantial portion of the price, and the approach isn't always cost-efficient nor predictable.
With the on-demand pricing model, companies are charged for various cloud services by the hour. Since usage can fluctuate dramatically, anticipating the final cost is practically impossible, especially if technological needs shift frequently. Ensuring that an organizational IT spend can stay within a set budget is incredibly challenging as it turns what is traditionally a fixed cost into a variable one.
Ultimately, the pricing model itself is shockingly hard to navigate. For IT cost predictability, a public cloud service isn't likely to deliver.
Complexity Comes with a Price Tag
Even if an organization can get the service costs under control, ensuring they will remain predictable and relatively affordable over time, a public cloud comes with an often unanticipated expense. Complexity nearly always comes with a surprise price tag. In this case, it's the cost of finding someone who can work with and fine-tune a public cloud infrastructure.
Public clouds are recognized for their complexity. While that means the service provides businesses with a significant amount of potential, it also means that not just anyone can make the most of it. Without proprietary education or outside consulting, an internal corporate IT team isn't going to be able to use the cloud effectively.
When a company needs to hire a cloud expert, it isn't unlike tracking down a rocket scientist. There aren't many of them in the labor pool, so it will cost a a premium to secure top-notch talent. Otherwise, firms end up having to default to someone with a lower skill level, meaning they might not get the most out of the cloud services.
When a critical system is complex, the ability to be agile is lost. Changes are a monumental undertaking, requiring hard-to-find specialists who command high salaries. Often, this makes a public cloud inconvenient and unaffordable for many smaller to mid-sized companies.
Additionally, if an organization falls under any compliance regulations, the whole process of moving to a public cloud becomes even more difficult. Take a brief look at any public cloud compliance overview and think whether or not it is possible to achieve a level of required compliance internally. More than likely, this will be an additional expense that will come in the form of a third-party audit software, implementation consultants and cyber experts. Infrastructure compliance can easily take up to 20% of the overall IT budget.
Luckily, there is another way.
Why TetherView is Different
TetherView believes in simplicity and affordability. TetherView's private cloud service is designed to be an all-encompassing IT solution, allowing businesses to coordinate their IT resources to genuine needs. Each solution is completely customized, providing firms with a private cloud that meets the most stringent security and compliance standards around.
Plus, everything is included in TetherView's flat-fee pricing model. Companies get top-tier support in an easy-to-manage solution. TetherView's customers always maintain full control over their IT environment, while having a transparent view into their systems that can be lacking in other solutions.
Even if a business needs to scale quickly, something TetherView's cloud does with ease, the ability to anticipate IT costs will never change. TetherView always provides access to robust IT products and leading infrastructure without breaking their customers' banks.
TetherView believes that comprehensive IT solutions shouldn't require proprietary education to operate. Instead, simplicity should always be the name of the game.
About TetherView:
Based out of Fort Monmouth, NJ, TetherView provides custom, flat-fee private clouds that integrate the utmost in security, compliance, business continuity and disaster recovery. With TetherView, businesses transition away from legacy IT into secure and efficient cloud-based computing environments. At the core of each private cloud are Virtual Desktops, which provide users with the closest experience to traditional computers, all while achieving higher performance, enterprise-grade security and true, untethered mobility.
Written by TetherView.