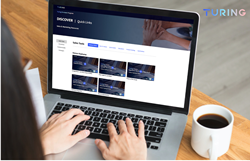 "We believe the Turing Partner Portal goes beyond the industry standard, ensuring that the dealers and integrators who partner with us have the latest tools and features at their disposal to effectively manage their Turing Vision clients."
SAN MATEO, Calif. (PRWEB) June 28, 2022
Turing AI today announced updates to the newly-released Turing Partner Portal, a single dashboard management system for Turing Partners. Known for their support and close collaboration with dealers and integrators, The Turing Partners Portal is designed to help Turing Partners to drive sales, stay informed, manage customer accounts, and securely track subscriptions.
"We've gathered everything from sales tools and technical guides to release notes, user manuals, and customer management into a singular management tool for our Turing Vision partners," said Ron Rothman, President of Turing AI. "Our goal is to help our partners streamline their installation process and account management, while delivering a superior end-user experience with our industry leading AI-powered video security".
Features of the new Turing Partner Portal include:
Customer Device Management

Allows dealers to view, manage and upgrade your customers' devices remotely
Helps customers add, buy, and renew licenses
Resolve issues remotely by requesting temporary admin access to your customer's accounts.
License Management
Add and renew licenses in 3 easy steps (select cameras, choose a license type and apply)
Safely and securely process payments with Stripe, trusted by millions of companies, including Google, Amazon, and Lyft.
Redeem your master keys purchased through a Turing authorized distributor
View purchase history
Sales & Marketing Content
Helps drive sales through sales and marketing resources including sales tools, current promotions, technical guides, and campaigns
"We believe the Turing Partner Portal goes beyond the industry standard, ensuring that the dealers and integrators who partner with us have the latest tools and features at their disposal to effectively manage their Turing Vision clients," said Molly Fukuchi, Product Manager at Turing AI.
Current partners registered in the Turing Partner Program can easily log into the Partner Portal for dealers and integrators curious about partnering with Turing AI, a complete Turing Partner Program brochure is available on Turing's website.
About Turing AI:
Founded in the heart of Silicon Valley in 2017, Turing AI's mission is to reimagine the safety and security industry with AI. At our very core, we develop complex, machine learning models to integrate with industry-proven robotics and video analytics solutions to create interconnected AI-enabled solutions unlike any other in the world. Turing AI is the winner of the A.I. Excellence Award in machine learning, SIA New Product Solutions Award for robotics, and Security Sales & Integration MVP Award for best in video surveillance.