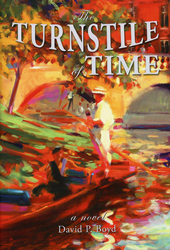 BOSTON (PRWEB) May 27, 2020
David Boyd, D.Phil., academic novelist who served as dean at Northeastern University in Boston, Massachusetts, has released his first fiction novel, "The Turnstile of Time." The novel chronicles the life journey of Nathan Lee and his quest for love, knowledge and meaningful relationships. From Oxford to the city streets of Boston to a ranch in Montana, the reader is regaled with uniquely descriptive passages, witty humor and heartfelt human emotions.
Nathan Lee, an American, begins his search for happiness as a graduate student at Oxford University. Here he finds intellectual inspiration and befriends a classmate whose bawdy behavior and disruptive shenanigans cause turmoil throughout the University. Their unlikely bond endures for a lifetime. He also falls in love with a mysterious and alluring English woman. She is the first of three with whom his life will intertwine. In Boston, he must confront a sorrowful interlude and loss, but the wild west ultimately provides him with inner peace and fulfillment.
"This story begins with a young man in his twenties. It follows his professional and emotional coming of age over a span of nearly fifty years," said Boyd. "The characters that Nathan Lee meets along the way explore the critical ties that bind a loving relationship. My hope is to remind readers of the value in human relationships and offer a sense of inspiration so that they, like me, can walk again where they once ran...oftentimes with a smile and the hint of risqué humor."
Boyd's book is available for purchase on Amazon.
About David Boyd
A widely published author and frequent public speaker, David Boyd is known for lively humor as well as academic insight. He has spent over 30 as a tenured business school professor at Northeastern University, where he taught entrepreneurial leadership and also served as Dean. Boyd has published more than seventy papers in the areas of organizational psychology and entrepreneurial behavior. His publications have appeared in outlets ranging from the Harvard Business Review to the Moscow University Review of Economics. He has presented his work at over fifty academic conferences where he has received six Best Paper Awards and his research on entrepreneurial leadership has been featured nationally in The Wall Street Journal.
Now he is drawing on this experience to craft a fictional narrative about a young professor's evolving journey through time and circumstance. David Boyd holds an undergraduate degree from Harvard College and a doctorate in philosophy from Oxford University. He resides in Boston and in his free time reads mystery novels and follows the stock market.