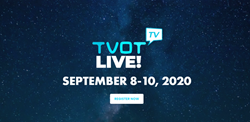 "This might be our most social show ever!" Tracy Swedlow, Producer of The TV of Tomorrow Show
SAN FRANCISCO (PRWEB) August 27, 2020
The TV of Tomorrow Show (TVOT), the long-running industry conference produced by InteractiveTV Today, is going virtual with TVOT Live!, September 8th—10th. This three-day online event will combine thought-provoking panel discussions and keynotes with an array of networking and business-development opportunities, providing its global audience with a richly informative, deeply engaging and highly social and interactive experience.
Like all TVOT shows, TVOT Live! will feature in-depth coverage of such topics as Advanced Advertising (Addressable, Programmatic, Cross-Platform, Interactive, Blockchain-Powered, etc.), ATSC 3.0/NextGen TV, Audience Measurement and Attribution, the Future of the TV Bundle, AVOD, SVOD, Connected TV, Shoppable TV and more.
In addition, throughout the day, attendees will be able to participate in vibrant Community Discussion sessions, led by prominent industry figures, where they can extend and deepen the learnings from the panels and keynotes they've just attended, pose questions to the speakers they've heard from, engage in productive conversations, and build new business relationships with their peers.
TVOT Live! will also feature the presentation of the 17th annual Awards for Leadership in Interactive and Multiplatform Television at an awards gala that will allow attendees to rub shoulders with some of the people most responsible for envisioning and driving the future of television, video and advertising.
As is always the case with TVOT events, TVOT Live! will feature an impressive line-up of thought-leaders from all areas of advanced television, video and advertising and beyond, including such luminaries as:

Madeleine Noland, President, ATSC
Tom O'Brien, President, The Weather Channel
Ben Relles, Head of Innovation, YouTube Originals
Radha Subramanyam, President and Chief Research and Analytics Officer, CBS
Todd Achilles, CEO, Edge Networks/Evoca
Josh Feldman, EVP/Head of Marketing and Advertising Creative, NBCU
Mark Garner, EVP of Content Licensing and Business Development, A+E Networks
David Goodfriend, Founder, Locast
Mike Madrid, Co-Founder, The Lincoln Project
Halsey Minor, CEO, Live Planet
Anna Schecter, Senior Producer, NBC News
Anne Schelle, Managing Director, Pearl TV
Evan Tracey, Founder, NMRPP
Eric Weinstein, Managing Director, Thiel Capital
Rob Weisbord, President of Broadcast and CRO, Sinclair Broadcast
TVOT Live! is a unique opportunity to learn from and interact with television-industry experts, visionaries and leaders from around the world. As Tracy Swedlow, Producer of The TV of Tomorrow Show puts it, "Our first virtual TVOT event will not only offer the timely and informative panel discussions and keynotes TVOT is known for, but will replicate the amazing networking and business-development opportunities that have come to define the in-person show. In fact, this might be our most social show ever!"
TVOT Live! sponsors include Comcast Technology Solutions, Simpli.fi, Imagine Communications, Inscape, New York Interconnect, EasyBroadcast, DigiCAP, Verizon Media, Canoe, Synamedia, Amobee, and Breakaway Communications.
The TVOT Live! agenda is available online: https://thetvoftomorrowshow.com/announcing-schedule-sessions-tvot-live-first-virtual-tvot
Registration is currently open: https://tvot.simpletix.com/e/54262
About InteractiveTV Today:
Founded in 1998 by Tracy Swedlow and co-owned by Richard Washbourne, InteractiveTV Today, ITVT is the most widely read and trusted news source on the rapidly emerging medium of multiplatform, broadband interactive television (ITV). We provide concise, original coverage of industry developments, technologies, content projects, and the people building the business to our readership, which is made up of hundreds of thousands of executives from around the world.
For further sponsorship information or speaking opportunities, please contact Tracy Swedlow at tracyswedlow@itvt.com.