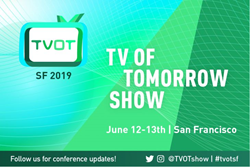 SAN FRANCISCO (PRWEB) May 23, 2019
InteractiveTV Today, ITVT, the most trusted news source on multiplatform interactive and social TV, has announced its TV of Tomorrow Show (TVOT) will return to San Francisco, June 12-13th.
In addition to in-depth coverage of the latest innovations in advanced TV and video (including new developments in addressable and programmatic advertising, audience measurement, attribution, monetization and engagement strategies, local broadcasting, interactive TV, user experience design, personalization, content discovery, data privacy, the new ATSC 3.0 standard, OTT/AVOD/FAST and more), this year's show will explore the ecosystem of disruptors who are reshaping how news is reported, delivered and consumed.
One such disruptor is William M. Arkin--a journalist, political commentator and military analyst for over three decades--who knows the news business backwards. Following his resignation from NBC News, his critique of the modern-day news business made waves around the globe. Continuing this conversation at TVOT, Arkin will use his insider experience to enlighten attendees on what's wrong with the news today and how we can fix it.
Joining Arkin will be an impressive line-up of more than 150 expert speakers and panelists, all prominent in their field, and all there to debate and discuss the massive changes--and attendant controversies--currently reshaping all aspects of the television business. Registration is currently open: http://thetvoftomorrowshow.com/register-tvot.
Speakers at this year's event include such experts as:

Adam Ware -- General Manager, Sinclair Broadcast/STIRR
Alex Gonzalez -- SVP of Brand Distribution, Turner
Anne Schelle – Managing Director, Pearl TV
Chris Rudy -- CSO, Cut.com
Dave Morgan -- CEO, Simulmedia
David Goodfriend -- Founder, Locast
Debbie Reichig – SVP of Media Research, Disney
Dwayne Benefield -- Head of Sony PlayStation Vue
Irena Cronin -- CEO, Infinite Retina
Jane Clarke -- CEO, CIMM
John Hane – President, Spectrum Co. LLC
Kathy Doyle -- EVP of Local Investment, MAGNA Global
Mark Garner -- EVP of Content Sales, Licensing and Business Development, A+E Networks
Mark Rotblat -- CRO, Tubi
Meryl Draper -- CEO, Quirk Creative
Nick Colsey – VP of Business Development for TV, Sony
Nico Pitney – Political Director, NowThis News
Rachel Williamson -- President, Gamut
Rebekah Dopp – Principal, News and Local Media/Global Partnerships, Google
Rob Weisbord – Chief revenue Officer, Sinclair Broadcast Group
Sam Wu – CEO, Rakuten Viki
Steven Oh – Chief Business Officer, The Young Turks
"At this year's TVOT SF, we are curating highly relevant conversations that will focus on urgent, important and controversial topics which are facing the TV industry today and which will determine the direction the industry takes tomorrow," said Tracy Swedlow, Co-Founder & Co-Producer of The TV of Tomorrow Show. "After extensive research, and drawing on our long experience covering advanced TV and video, we have invited a group of executives to speak whose work we believe will have a major impact on the future of the television, video and advertising industries. The unparalleled quality of our speaker roster is what makes TVOT such an amazing venue in which not only to learn about the future of our industry, but also to build relationships and cultivate new business."
TVOT SF 2019 sponsors include Inscape, C3 Metrics, Imagine Communications, INVIDI, Alphonso.tv, Google, Amobee, Cuebiq, TiVo, Simpli.fi, VideoAmp, Transform, Canoe, Comcast Technology Solutions, AWARN Alliance, nScreen Media, The Vertere Group, Interactive Television Alliance, BIA Advisory Services, Daddi Brand Communications, Chris Pfaff Tech Media, Hemisphere Technologies, and Breakaway Communications.
TVOT SF is the ideal place to find new prospects and make deals. The show features a cocktail party, allowing attendees to network and mingle with the creative and business communities present at the show.
Rave reviews from past events include:
"Congratulations on an impressive event. I was so pleased with the caliber of speakers and attendees. Thanks so much for including me." - Rebekah Dopp, Principal, News and Local Media--Global Partnerships, Google
"Thanks for such a great event. We had a lot of exposure and saw many attendees reach out for attribution certification and comment on the presentation that was delivered by Jeff Greenfield, our COO."- C3 Metrics (Primetime Diamond Sponsor TVOT NYC 2018)
"Super event this year! The topics where spot on and the discussions informative and fresh." -
Anne Schelle, Managing Director, Pearl TV
"Thank you for the opportunity and for the amazing production values that you and your team deliver for the show. You run the tightest ship and have such a vibrant community."
Chris Pfaff, CEO, Chris Pfaff Tech/Media LLC
"Fantastically-run show! I had a great time and put together several deals."
Jon Cody, Founder & CEO, TV4 Entertainment (founder of Hulu)
To register for TVOT SF, click here.
Use the #TVOTSF hashtag to join our conversations and follow TVOT on Twitter at http://www.twitter.com/TVOTshow.
###
About InteractiveTV Today:
Founded in 1998 by Tracy Swedlow and co-owned by Richard Washbourne, InteractiveTV Today ITVT is the most widely read and trusted news source on the rapidly emerging medium of multiplatform, broadband interactive television (ITV). We provide concise, original coverage of industry developments, technologies, content projects, and the people building the business to our readership, which is made up of hundreds of thousands of executives from around the world.
For further sponsorship information or speaking opportunities, please contact:
Tracy Swedlow
tracyswedlow@gmail.com