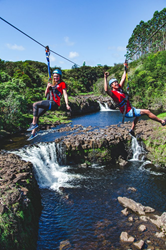 "We are so stoked to be able to resume operations and welcome back guests."
HAKALAU, Hawai'i (PRWEB) November 19, 2020
The Umauma Experience, an award-winning East Hawai'i outdoor adventure brand known for its spectacular zipline over the most waterfalls has resumed operations as of November 16, 2020. Known as Hawai'i Island's premiere destination for outdoor activities, the Umauma Experience is offering zipline and all-terrain vehicle (ATV) tours. Horseback riding tours will also be operating on property by Wailea Horseback Adventure. All tours will be conducted on Mondays, Tuesdays, and Thursdays, with plans to become fully operational by mid-December 2020. For more information or to book a reservation, visit UmaumaExperience.com.
"We are so stoked to be able to resume operations and welcome back guests," said John McCollum, The Umauma Experience's General Manager. "We've put a lot of thought into our new safety procedures for COVID-19, utilized the down time to improve our course quality and kept the grounds in top condition to ensure our guests truly have the experience of a lifetime."
About The Umauma Experience
Voted Best of East Hawai'i Zipline eight years in a row, The Umauma Experience is a "must do" for Hawai'i Island visitors who crave fun and unique activities outdoors in Hawai'i's natural beauty. Guests can soar above 14 natural waterfalls on their award-winning zipline tour, enjoy ATV trail rides, and go for a swim at Umauma's private waterfall and pond. Walking tours through the lush grounds reveal a variety of tropical flowers, plants and tree species. They also offer a full-service café and espresso bar inside the Visitor Center & Gift Shop, as well as bathroom facilities with private showers. Learn more at UmaumaExperience.com.