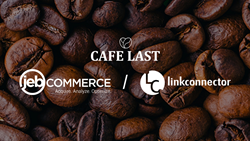 Together, JEB and LC helped us build transparent and profitable relationships with affiliate partners helping our brand connect with relevant audiences.
CARY, N.C. (PRWEB) June 04, 2021
Entering the eCommerce ocean and standing out from big box stores to acquire customers is a daunting endeavor for small businesses. Cafe Last, a retailer of espresso machines, found affiliate marketing to be its lifeboat. Together with the strategic guidance from JEBCommerce, an affiliate management agency, and the technical solutions from LinkConnector, an affiliate network, Café Last navigated and thrived exponentially to grow revenue 285% over their goal.
A case study released today by JEBCommerce (JEB) and LinkConnector (LC) tells the story of how Cafe Last is harnessing the innovation of affiliate marketing to empower exceptional growth and exceed revenue goals in the first two months of its affiliate program. Graham Cooke, Founder of Cafe Last, expressed how "Together, JEB and LC helped us build transparent and profitable relationships with affiliate partners helping our brand connect with relevant audiences."
Affiliate Marketing has proven to be an invaluable means for Cafe Last to grow customer acquisition, access technology solutions and increase revenue all while achieving a profitable return. The case study findings illustrate the diversified reach Cafe Last garnered through affiliate partners reaching consumers at all stages of the shopping journey with Content affiliates driving 43% of affiliate channel revenue as they connected with shoppers in the discovery stage.
Growing a profitable eCommerce presence equipped with the metaphorical oars, flares and position-indicating beacons to remain buoyant are the lifeboat qualities from which online stores benefit and rise with the tide when having an expertly steered affiliate program.
About LinkConnector
LinkConnector, a leading Performance Marketing Network, sets itself apart with a focus on customer partnerships and constant innovation. Since 2004, LinkConnector has pushed the industry with the curation of cutting-edge tracking solutions and proprietary technologies giving its customers a strong advantage (e.g., Infinity Codes and Naked Coupon Technology). LinkConnector creates valuable relationships between global online retailers and top affiliate influencers and is recognized as a leading network on industry lists such as the Vendor to the Internet Retailer Top 500, the mThink Blue Book and AffStat Report. And, LinkConnector has been recognized as a finalist for the 2019 Publisher Choice of Network Award and the 2021 Best Affiliate Marketing Innovation award with the Performance Marketing Awards.
About JEBCommerce
Based in Coeur d'Alene, Idaho, JEBCommerce is an award-winning performance marketing agency that helps online brands increase customer acquisition and drive incremental growth. Working with over 300 brands over their 17 years, JEBCommerce has consistently delivered results for their clients. The agency was a 2016 finalist for the Rakuten Marketing Golden Link Awards' OPM Agency of the Year—an accolade it took home in 2009 and has been nominated for three times since—, winner of the 2019 Pinnacle Awards OPM/Agency of the year and was ranked #19 on Entrepreneur Magazine's 2017 Best Company Cultures list among many other accolades.