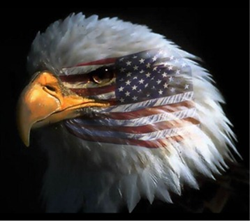 The strength of the Constitution lies entirely in the determination of each citizen to defend it ! Albert Einstein
SIOUX FALLS, S.D. (PRWEB) September 25, 2018
The United Sovereignty Alliance was incorporated by Burton Hill of Sioux Falls, S.D. as a non-profit and registered in South Dakota.
The United States is A Constitutional Republic " Of the People, By the People and For the People ", Therefore the Citizens of our Nation have the Constitutional power to Nullify any and all Federal laws, Agencies and regulations that hinder the Citizens of their right to " Life, Liberty and the Pursuit of Happiness " as written in the Declaration of Independence.
The mission of the Alliance is to educate and inform the American citizen that they have the authority to legally bypass Congress and the Courts as well as the political circus through the Constitutional Amendment process . An informal Amendment process allows two-thirds of the States to promote and pass a Amendment to the Constitution which in turn goes to the Senate to ratify and return to the States for a majority of 38 States to ratify.
Political obstruction has hindered the government from enforcing many laws including the immigration of Political Islam into our Nation without assimilation, violating the McCarren-Hutchens act of 1952 passed by the 82nd U.S. Congress ! The McCarren-Hutchens Act can be strengthened only when You the True owners of Congress and the Courts bypass them and vote directly without political interference in a Constitutional Referendum that Bans further immigration of the Islamic Political Ideology from the United States or its Territories.
Political obstruction of immigration laws involving illegal entry into the United States as well as harboring, aiding and abetting Illegal immigrants by State Governors, Mayors, local law enforcement as well as Judges can also be considered Treason. [U.S. Code Title 8.Chapter 12. Subchapter ll. Part VIII. ss1324
Strengthening current immigration laws can only happen through a Constitutional Referendum as Political Ideologies hinder the operation of our government.
Aiding and abetting a Criminal illegal immigrant by a Governor, Mayor, State legislation, Jurist, College, University or anyone in law enforcement violates Federal law.
Our Facebook page is United Sovereignty Alliance.org.
On November 14th a Referendum ballot will be placed on the web for you to study and decide if you want to preserve our Constitutional Republic for future generations.
Abraham Lincoln said We the People are the " True Masters of Congress and the Courts ", Not the political establishment.
Praise the Lord, Pass the Constitution and We'll all live Free!