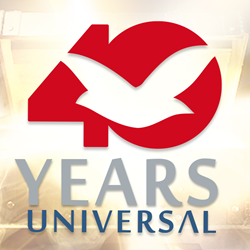 NEWARK, N.J. (PRWEB) September 17, 2018
The Universal Church of the Kingdom of God completed the 21 Days – Fast of Daniel on August 26, 2018 with a prayer service on Mount Hermon, the Holy Mountain on the southern tip of the anti-Lebanon mountain range. The Universal Church's founder, Bishop Edir Macedo, came together with other Universal Church bishops to conduct the prayer service and minister the outpouring of the Holy Spirit to participants who have been forever changed from this spiritual experience. The service took place at 10 am on the last day of the fast and was broadcasted live worldwide.
The 21 Day – Fast of Daniel is normally done once or twice a year where people are taken to detoxify and change from what is within. The outer part of our life is a reflection of what is within. We cannot deal with the problems we face in the exterior if we first don't solve those that are interior that can only be done by the Holy Spirit. In order to guide this change, the Universal Church worldwide holds the 21 Days – Fast of Daniel for the outpouring of the Holy Spirit.
Bishop Bira Fonseca writes a daily post on his blog during the movement, there are daily videos posted on the Universal Church's website, and bishops and pastors are available to explain who the Holy Spirit is and how the Holy Spirit can help individuals make big changes from within.
Unlike other fasts that involve resisting food and drink for a set period of time, the Universal Church asks people to take a break from social media, secular information, and entertainment and use that time, instead, to invest in their relationship with God. It is a time of detoxification, spiritual reawakening and change, and it is a movement that has helped so many start anew with the help and power of the Holy Spirit. Individuals who did not get a chance to participate in the 21 Days are encouraged to attend a Sunday Service in their area to discover what the Universal Church is all about.
About The Universal Church: The Universal Church believes in the Word of God and the power of faith. Locations are open 365 days a year and the passionate about reaching those in need of spiritual guidance and restoration. We believe anyone can change for the better.