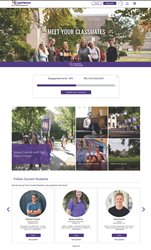 MORRISTOWN, N.J. (PRWEB) January 29, 2020
While many colleges are struggling with enrollment, The University of Evansville is bucking the trend by providing innovative engagement experiences for their admitted students. UE is launching a program called S360:Yield from Evolution Labs, a tool that drives accepted student engagement and interaction. S360:Yield enables accepted students to engage in a multifaceted digital experience that gives them a behind-the-scenes view of what life is really like at the University of Evansville.
Newly accepted students are now using S360 (custom-named "UExperience" for UE) to dive deep into their program of study, follow current student "ambassadors" with similar interests, connect with other incoming students and explore out-of-classroom (and out-of-country) experiences.
UExperience provides students with highly individualized content tailored to their interests, including articles, videos, and quick "pulse surveys." The program also lets students interact with and "shadow" current students, view real-life social media feeds, and watch videos of real students describing life at UE. S360 not only drives accepted student engagement, it also helps the university better understand the attitudinal trajectory of admitted students. The school will receive engagement insights from the program in real-time, equipping staff to make better communication and enrollment decisions.
According to Peter Kraft, co-founder of Evolution Labs, "CRM emails just don't cut it anymore. Prospective students are looking for a more personalized experience from schools. S360 is a great fit for UE's highly mobile and web-based audience."
The University of Evansville has launched S360 for the incoming class of 2020.
About Evolution Labs
Evolution Labs improves student engagement and outcomes through its proprietary suite of tools for K-12 schools and districts, and Colleges and Universities. In K-12, the Company's Suite360 program delivers Social & Emotional Learning and Restorative Programming to Students, with additional programs for Parents and Staff to better equip them to be the school/district's ally. The Company's S360 program helps K-12 Independent Schools drive enrollment and retention. In Higher Ed, the Company's S360 program drives inquiries, applications, enrollment yield, and student wellness/success. The team at Evolution Labs has served the educational sector for over 20 years, working with thousands of schools and engaging millions of students. Learn more at http://www.evpco.com.