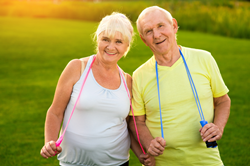 "The Views is the first of its kind in Lake Havasu" Luke Still, co-founder of Desert Land Group
LAKE HASAVU, Ariz. (PRWEB) May 22, 2019
May 29th, 2019 marks the 26th anniversary of National Senior Health & Fitness Day, where senior citizens across the country will make exercising a priority. The timing is just right for new residents of The Views at Lake Havasu, a resort-style senior living community for independent active seniors over 55.
The doors to The Views opened last week and the first group of eager occupants have officially moved in. A grand opening celebration of this 92-room modern-contemporary complex is planned for July when more new residents will be introduced to a variety of luxury amenities in a maintenance-free lifestyle.
"The Views is the first of its kind in Lake Havasu," said Luke Still, co-founder of Desert Land Group, who partnered with Summerlin Asset Management to develop the senior independent living community. "Our city has more senior citizens per capita than most cities in the nation, with 29% of our population being over 55 years of age. A unique project such as the Views is exactly what residents have been waiting for."
According to the United States Census Bureau, the number of people who were over 65 years old grew from 44.7 million in 2013 to 46.2 million in 2016. Since this statistic is expected to grow closer to 56 million by 2020, the focus on keeping senior citizens fit and healthy overall becomes more important. While the entire month of May is designated as Senior Citizens Month, organizations across the nation are planning specific events to encourage physical activity on May 29th.
When it comes to "active" senior living, The Views at Lake Havasu takes this word to heart. Their My Activities Program is one of the most comprehensive signature programs they offer, as it focuses on the overall wellness needs of their residents. With an outdoor swimming pool, fitness center, and onsite activities director, every day at The Views will feel like National Senior Health & Fitness Day.
About Summerlin Asset Management, LLC
Summerlin Asset Management, LLC is a privately owned real estate investment firm with offices in Arizona and California. Summerlin offers investment opportunities in all new development projects. These projects include ground-up developments of Senior Living communities, Boat and RV Storage Facilities, and Multifamily developments within the United States.
To learn more about The Views at Lake Havasu, click on this link: http://www.lakehavasuseniors.com