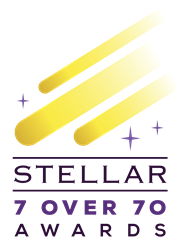 WINCHESTER, Va. (PRWEB) October 08, 2019
A National Lutheran Community is unveiling the nominations for the inaugural Stellar 7 Over 70 Awards at a reception to be held at The Chapel at Orchard Ridge, A Center for Faith and Community Life on October 10, 2019 at 1 p.m. The Village at Orchard Ridge's Chapel is located at 400 Clocktower Ridge Drive in Winchester.
The Village at Orchard Ridge received 18 Stellar 7 Over 70 award nominations, all of whom will be celebrated at the October 10 reception.
"We are thrilled with the enthusiasm and support the Stellar 7 Over 70 Awards have received from the Winchester, Frederick and Clarke County communities, and from many area civic clubs and faith organizations as well," says Rebecca Lipscomb, sales director at Orchard Ridge and a member of the Stellar 7 Over 70 planning committee. "This is the first time our community has launched an awards program of this magnitude. We on the planning committee are over the moon with excitement about the caliber and number of nominations we received," Lipscomb continues.
"Shining a spotlight on the contributions the Stellar 7 Over 70 nominees are making in their communities is an important first step in fighting ageism," says Melissa Fortner, Executive Director for The Village at Orchard Ridge. "Since combating ageism is central to our mission, it's a huge honor to be able to share our nominees' stories," Fortner adds.
The inaugural Stellar 7 Over 70 Awards is the first award program of its kind in the greater Winchester area. The awards highlight ongoing achievements by older adults in one of more of the below categories:

Intellectual Growth
Fitness and Health -
Social and Community Involvement
Spiritual Expression
Creative Engagement
Environmental Awareness
Vocational Connectivity
The final award recipients will be announced at a ticketed awards luncheon on Thursday, November 7, 2019 from 11 a.m. until 1 p.m. at the George Washington Hotel in Winchester. Tickets for the luncheon can be purchased at http://www.thevillageatorchardridge.org/stellar7over70
About The Village at Orchard Ridge
The Village at Orchard Ridge in Winchester, Va., is a continuing care retirement community (CCRC) on 132-acres in the Shenandoah Valley. The community opened in February 2013 and offers independent living cottage homes and apartments with in-home services, assisted living memory care, and skilled nursing for both long-term care and short-term rehabilitation. For more information, visit http://www.thevillageatorchardridge.org
About National Lutheran Communities & Services (NLCS)
With 128-years' experience, NLCS honors, inspires and supports choice and opportunity in service to seniors. Based in Rockville, Md., NLCS is a faith-based, not-for-profit ministry of the Evangelical Lutheran Church in America's (ELCA) Delaware-Maryland, Metropolitan Washington, D.C. and Virginia Synods, serving people of all beliefs.
Entities sponsored by National Lutheran include myPotential at Home in Winchester, Va., and Rockville, Md., The Village at Rockville in Rockville, Md., The Legacy at North Augusta in Staunton, Va., The Village at Orchard Ridge in Winchester, Va., Impact1890, and The Village at Providence Point in Annapolis, Md., subject to Maryland Department of Aging approval. For more information, visit http://www.nationallutheran.org