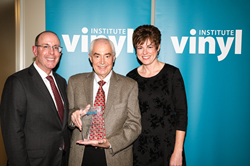 Dave Culbertson has played an instrumental role in growing the American PVC pipe industry to where it is today.
WASHINGTON (PRWEB) November 21, 2022
The Vinyl Institute (VI), presented Dave Culbertson, retired CEO of National Pipe and Plastics, with the Vinyl Institute's Lifetime Achievement Award at its 2022 annual meeting and 40th-anniversary celebration. The Lifetime Achievement Award was established to recognize outstanding service to the vinyl industry over a person's career.
"Dave is a valued leader in our industry and in his community," said Ned Monroe, VI President and CEO. "He played an instrumental role in growing the American PVC pipe industry to where it is today. Dave continues his leadership through his charitable work and support of the United Way of Broome County. He is not only motivated by the expansion of PVC pipe but is dedicated to giving back to his employees and the surrounding community. We are extremely pleased to be able to recognize him with this award."
Mr. Culbertson has a long history of advocating and expanding the vinyl business. While President and CEO of National Plastics ad Pipe, he led the company to be one of the largest PVC pipe producers in North America. National Pipe and Plastics prided itself on striving to "do the right thing". When the opportunity presented itself, Mr. Culbertson bought all company shares from the PVC waterworks pipe manufacturer Sojitz Corp. to ensure that the company was wholly American-owned and independent. This allowed the company to have full control of entering into ventures with solely American-made companies.
Additionally, Mr. Culbertson implemented a mentoring program at the company to help reach students beyond the classroom. He hired some of the most skilled engineers and businessmen and women who know how to encourage and work with the younger generations to find creative solutions to issues occurring within their communities. In 2021, Mr. Culbertson sold National Pipe and Plastics to Oldcastle Infrastructure, a CRH Company.
###
About the Vinyl Institute:
The Vinyl Institute (VI), founded in 1982, is a U.S. trade association representing the leading manufacturers of vinyl, vinyl chloride monomer, vinyl additives, and modifiers. The VI works on behalf of its members to promote the benefits of the world's most versatile plastic, used to make everything from PVC piping to flooring, roofing and vinyl siding. The vinyl industry in the United States employs over 350,000 highly skilled employees at nearly 3,000 facilities and generates an economic value of $54 billion. For more information, visit vinylinfo.org.