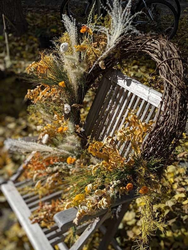 MISSOULA, Mont. (PRWEB) October 28, 2020
Earth Within Flowers is pleased to announce its upcoming virtual DIY wreaths and appetizers on November 8th, 2020, at 4-6 pm. This online workshop is designed for flower enthusiasts or individuals who are getting married. The price ranges from $65 to $105.
The flower shop has been hosting virtual DIY floral workshops for 6 years. These days, due to the COVID-19 pandemic, the company wants local community members in Missoula to treat their quarantine spaces and senses with creative seasonal classes.
All the wreath, cocktail, and appetizers are available for delivery or pick up. This fall season's virtual class will be led by Melissa Lafontaine. She will guide the participants in weaving wreaths with the use of local flowers, herbs, and Fall foliage that are grown by Crescent Ridge Farm. The attendees can add on three fall seasonal appetizers and mocktail/cocktail recipes, provided by True Food Missoula.
Throughout the year, Earth Within Flowers invites the community to join their virtual DIY flower workshops using ethically harvested and locally sourced blooms. Each of the workshops feature instruction from the owner, Melissa Lafontaine.
Melissa uses her background in Western and indigenous plant knowledge. She has also earned a master's degree in Environmental Education. Her teaching style is inviting and engaging so that every participant will feel confident and satisfied in their creations by the end of each session.
"I just took the DIY workshop making wreaths with Earth within Flowers - it was a great experience. I learned about the plants, about how to make a wreath, and it was a safe and fun plan to create. I would recommend highly, and can't wait to take another workshop," says Inge Erickson.
Earth Within Flowers is not limited to online workshops. The flower shop is well-known for its top-notch full-service wedding flowers and a la carte wedding flowers. While the flower shop is based in Missoula, MT, they also cater in different wedding venues, including Chico Hot Springs, Pray Montana, The Barn at Finely Point, Polson, MT, The Lodge at Whitefish Lake - Whitefish, MT, and Izaak Walton Inn.- Essex, MT.
About Earth Within Flowers:
Earth Within Flowers is one of the leading flower shops in Montana. They specialize in wedding flowers, from a la carte to full-service wedding flowers. The flower uses innovative Montana-inspired design concepts to match the unique personality and style of their clients. They support local Montana flower farms and organic floriculture. They source all their blooms from the local and Northwest farmers and feature dried floral arrangements during the winter months.
###
For more information about the upcoming virtual DIY wreaths and appetizers this fall season, please visit https://earthwithin.com/product/virtualfalldiywreaths/ or call (406) 240-1367.