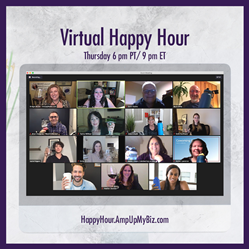 What once was a best practice may not be anymore. Look at data, dig into analytics, and make the necessary changes that help businesses stay connected and engaged with their audiences.
AGOURA HILLS, Calif. (PRWEB) December 23, 2020
When the world changed because of COVID earlier this year, the Amp Up My Biz team thought long and hard about how they could help business owners and entrepreneurs. "It was important to us to give back in a meaningful and whole-hearted way," says Owner and Founder, Bridget Brady. "What better way to give back than to share our time, support, encouragement, and years of marketing expertise with our community for free? Thus, our Virtual Happy Hour was born."
The Virtual Happy Hour proved successful right from the start in April 2020. Amp Up My Biz specifically focuses on helping each attendee overcome one marketing challenge they're currently experiencing. This event was originally held weekly but now that life has somewhat resumed for most, Amp Up My Biz has transitioned to monthly sessions.
The results guests of Amp Up My Biz's Virtual Happy Hour are seeing are truly spectacular. One of their original attendees is a professional singer/entertainer and vocal coach. As such, she regularly had two sources of income...performing on stage and teaching students to sing. Live performances have been on hold in California where she resides and works, so all of her gigs were canceled or are still pending a reschedule. She also had to transition her vocal coaching business from in-person to virtual. Unfortunately, this did not go as planned. Her students didn't want to sing in front of their parents. Go figure!
She came to Amp Up My Biz with a kernel of an idea at one of the first Virtual Happy Hour sessions. Together they fleshed it out and up-leveled it into a digital, personal, singing telegram of sorts. By the next week, she curated her song list, created her landing page, and had already received 5 orders! After that next Happy Hour talking with her, watching a demo video, and perusing her landing page, Lisa Cutter, our Social Media Director bought 2 herself to gift to family members. The virtual gift literally made her father (a professional trumpet player) cry.
Another one of the Amp Up My Biz Virtual Happy Hour go-getters is only 15 years old! He started joining the sessions around May or June when he was still 14. He's incredibly ambitious and driven. He's personable and truly a natural-born CEO and salesman. What does he do? He sells succulents. He'd been selling his plants on Facebook in a very scrappy way, engaging people in relevant groups, etc., but he had no social media business profiles or groups of his own...or even a website. Amp Up My Biz has been helping him transform his business so he can grow and scale. Now, he's transitioned his social media presence per the best practices he's learning from Amp Up My Biz and his new e-commerce website is also in the works.
Needless to say, the entire Amp Up My Biz team is very proud of him and all our attendees who heed our expert advice and put plans into action. They would love to continue helping and supporting more entrepreneurs and business owners...whether they are getting a new business off the ground or growing an already successful business to new heights. They're committed to hosting the Virtual Happy Hour every month through the next year! Join them on Zoom throughout 2021 on the first Thursday evening of the month at 6 pm PST (9 pm PST). Seats are limited so they must be reserved here: HappyHour.AmpUpMyBiz.com
For now, Amp Up My Biz leaves these words of advice: What once was a best practice may not be anymore. Look at data, dig into analytics, and make the necessary changes that help businesses stay connected and engaged with their audiences. Owner Bridget Brady is consistently telling her clients and students, "Test it, track it, tweak it." Not only does a business need its community, but the community needs the products and/or services offered and they just may not realize it.
Outside of the sound business advice and proven strategies Amp Up My Biz offers, the free exchange of ideas among similar-minded business owners can open up new, innovative lines of thought that can help get others' businesses past that "COVID Slump." As they say, "Iron sharpens iron."
About Amp Up My Biz, LLC
Amp Up My Biz is a woman-owned online marketing firm, providing full-service custom digital marketing, social media management, and comprehensive training to business owners and entrepreneurs. Learn more at AmpUpMyBiz.com.