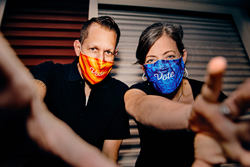 I wanted to amplify people's voices at a time when our mouths are covered by masks.
BOSTON (PRWEB) September 22, 2020
As the United States prepares for a historic presidential election during an unprecedented health crisis, voter participation and safety are front of mind.
TheVoteMask.com was created to promote a fair vote; 20% of profits in 2020 will support organizations that inform and uphold the election process, such as the ACLU, VotER and When We All Vote.
"Nearly half of eligible voters in the U.S. did not vote in the last general election," notes Liz Linder, a Boston-area photographer and concerned citizen. "And the younger someone is, the less likely they are to vote."
Linder's concern grew this spring as a novel virus forced our nation to largely shut down and public health officials urged Americans to wear face masks.
"I wanted to amplify people's voices at a time when our mouths are covered by masks," she says. "Our vote is our voice and affects everything: jobs, family, education, equality, justice, health, climate, safety, freedom, and so much more. Our vote is our future."
Enter The Vote Mask, a stylish new face mask created by Linder with the assistance of designer Aaron Belyea to help protect people's health – and protect American democracy.
The Vote Mask features adjustable ear loops and nose guard, with a soft cotton backing for ultimate comfort. It is double-layered and includes a pocket to add a removable filter. Every mask carries the important message "Vote" and is available in five different color designs.
For pricing and to purchase, please visit The Vote Mask online store.
Election Day is exactly six weeks away from today, on Tuesday, November 3. The deadline to register online to vote is Monday, October 26. If you miss this deadline, you will not receive a ballot by mail but can still vote in person at a voter service and polling center. Wear your Vote Mask!
"It is critical that we get out the vote this fall," says Linder. "This is a use-it-or-lose-it moment for American democracy."
ABOUT THE VOTE MASK
The Vote Mask was created in 2020 by a group of artists who want to use their skills to help protect people's health – and protect democracy. Per this mission, 20% of The Vote Mask profits in 2020 support organizations that promote high voter turnout and protect voter rights. It is a stylish, comfortable mask with an important message: VOTE. For more information, please visit http://www.thevotemask.com.
ABOUT LIZ LINDER PHOTOGRAPHY
Liz Linder is a Boston-based photographer who uses images to tell stories that matter. She has photographed iconic personalities such as Carly Simon, Quincy Jones and Dr. Anthony Fauci; produced portraits for clients like NPR, IDEO and Takeda Pharmaceuticals; and captured visual stories at Harvard, MIT, Northeastern University and other academic institutions.
Linder is the creator of The Vote Mask. In 2020, she also chronicled her community's response to COVID-19 in a series entitled, "At Work in a Pandemic." After 9/11, Linder embarked upon her "God Bless America" photography series.
Linder has been featured in top publications like Fast Company, The New York Times and Rolling Stone, and on NPR's "On Point" and ABC's "World News Tonight." Her photographs have appeared on set in film and TV, including the award-winning series "House of Cards" and "Gotham," and have been exhibited and collected throughout the U.S. and Europe.
For more information, please visit http://www.lizlinder.com.