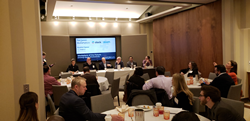 NEW YORK (PRWEB) January 09, 2020
The Wall Street Technology Association (WSTA®), a not-for-profit organization that provides financial technology and business professionals a forum to learn from and connect with each other, will host a panel discussion on "Cloud-First Design: Leveraging the Cloud" on January 16, 2020 in New York City. Panelists include representatives from financial services, Expel, Nuxeo, Tufin, and Zscaler. John Burke, CIO and Principal Research Analyst, Nemertes Research, will provide industry perspectives and moderate the discussion. For more information, please visit: https://www.wsta.org/events/event/cloud-first-design/
"Both development and operations change radically in a cloud-native and cloud-first world," notes Mr. Burke. "Old assumptions become traps, old team structures and processes become roadblocks, and plunging head first into cloud services can create operational and security blind spots. Our panel will provide crucial insights and tested practices that will help participants resolve, or better still avoid altogether, whole hosts of problems."
Panel Discussion Overview
If you're like most financial firms, you've already made a foray into the cloud. You may be using it for R&D or launched into full-production mode. Nemertes Research marks 2019 as "the year of the cloud:" the year in which more than half of all workloads have moved to the cloud.
But how does the shift to cloud affect your design practices? What are the "gotchas" and speed bumps that early adopters encountered?
This panel of industry experts will share insight into the practical and operational impact (and benefits) of cloud-native and cloud-first design. We'll share what to do, what not to do, and what to expect in terms of business benefits.
Topics covered will include:

Cloud True Cost of Ownership: What does it really cost, all-in, to move workloads to the cloud (including networking and storage costs)? How can financial firms factor that into their workload-placement decisions?
DevOps for cloud and multicloud
Leveraging open API platforms, and API management. What are open APIs, and how can they help? How should financial firms think about deploying API management solutions
Cloud migration: What workloads can and should be moved to cloud? What are the best practices for legacy migration?
Cloud and cloud security: As the perimeter dissolves, how should cybersecurity practices evolve to embrace the cloud?
Key technologies, including cloud management platforms, cloud service brokers, Kubernetes, containers, and more
About the Wall Street Technology Association
The WSTA facilitates educational and networking events where members meet and exchange ideas and best practices that assist them in effectively capitalizing on technology advances in areas such as Cybersecurity, Analytics, Internet of Things (IoT), Artificial Intelligence (AI), Machine Learning (ML), Data Management, Cloud, Blockchain, Digital, Architecture, etc. and dealing with financial industry business challenges. Founded in 1967, the WSTA is a not-for-profit association with a long history of evolving to meet the needs of its members.
The WSTA hosts seminars, roundtables, panel discussions, and social events. These events offer many opportunities to stay informed about leading technologies, as well as network and share information with industry colleagues. The WSTA's educational Digital News provides additional content and information about the WSTA and industry-related activities. The website is a dynamic resource for keeping on top of the latest information and offers access to additional resources including webinars, white papers, videos, and information about other industry events.
Nemertes Research is a global research-based advisory and consulting firm that analyzes the business value of emerging technologies. Since 2002, we have provided strategic recommendations based on data-driven operational and business metrics to help organizations deliver successful technology transformation to employees and customers. Simply put: Nemertes' better data helps clients make better decisions. http://www.nemertes.com