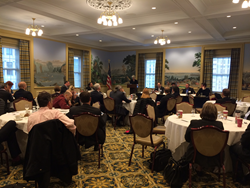 NEW YORK (PRWEB) October 23, 2018
The Wall Street Technology Association (WSTA®), a not-for-profit organization that provides financial IT and business professionals a forum to learn from and connect with each other, will host a panel discussion on "Accelerating & Industrializing Innovation" on October 30, 2018 in Boston. Roger Park, Ernst & Young LLP's (EY) Americas Advisory and Financial Services Organization Innovation Leader, will provide industry perspectives and moderate the discussion.
"The ability to innovate at scale, at speed, efficiently and safely is increasingly a competitive differentiator for industry leaders in this Transformative Age," said Park. EY has been investing in industrializing innovation by building global capabilities to enable and accelerate new ways to create enterprise value across all sectors and geographies through our wavespace network, innovation solutions and strategic acquisitions. We are innovating to help our clients innovate, take full advantage of emerging technologies and keep pace with ongoing change."
For more information, visit: https://www.wsta.org/events/event/accelerating-and-industrializing-innovation/
Panel Discussion Overview
Innovation is an organization's ability to respond to change. We're currently facing a perfect storm of change from digital disruption, the changing regulatory environment, and increasing customer expectations. Companies that wish to survive in the future must exist in a constant state of transformation. Financial institutions can't just have a digital strategy – they need to have a business strategy focused on thriving in a fully digital world.
Park will offer insights and outline the guiding principles for how financial organizations can industrialize innovation to enable digital enterprise transformation and maintain a sustainable competitive advantage. This will be followed by an engaging discussion with financial services professionals and solution providers about strategy and transformation, asset acceleration, events and facilitation and operations coordination.
About the Wall Street Technology Association
The Wall Street Technology Association (http://www.wsta.org) provides financial industry technology and business professionals, vendors, service providers, and consultants forums to learn from and connect with each other. The WSTA facilitates educational seminars and networking events where members meet and exchange ideas and best practices that assist them in effectively capitalizing on technology advances and dealing with financial industry business challenges. Founded in 1967, the WSTA is a not-for-profit association with a long history of evolving to meet the needs of its members.
The WSTA hosts seminars, roundtables, panel discussions, and social events. These events offer many opportunities to stay on top of leading technologies, as well as network and share information with industry colleagues. The WSTA's educational Digital News provides additional content and information about the WSTA and industry-related activities. The website is a dynamic resource for keeping on top of the latest information and offers access to additional resources including webinars, white papers, blogs, videos, and information about other industry events.