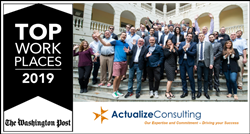 "This award indicates that our people feel appreciated, their work is meaningful, we encourage new ideas, and so much more. I am thankful to be part of this team and culture." Principal, Matt Seu
RESTON, Va. (PRWEB) June 25, 2019
Actualize Consulting has been named one of The Washington Post's 2019 Top Workplaces in the Washington, D.C. area. "This a true celebration of our leadership's commitment to focus on our people," said Chief Operating Officer Kerry Wekelo. "I am thankful that our team continues to embrace and apply our Culture Infusion principles into all aspects of their daily victories and challenges so that we can continue to thrive as individuals and as a company."
Selection for this list is based solely on employee feedback gathered through an anonymous third-party survey administered by research partner Energage, LLC, which measured several aspects of workplace culture, including alignment, execution, and connection. Actualize Consulting's culture is modeled after Wekelo's book and program, Culture Infusion: 9 Principles for Creating and Maintaining a Thriving Organizational Culture.
"Now in its sixth year, The Post's Top Workplaces list continues to reflect companies in the region that cultivate a connection with their workforce," said Washington Post Top Workplaces editor Dion Haynes. "It's clear from the survey that these organizations share a commitment to providing support and an environment that makes employees feel valued and respected."
Actualize Consulting puts people first while honoring their mission to be an industry leader in the management and automation of financial functions and corporate financial events. Founding Principal Chad Wekelo says, "Our consultants have extensive experience and are accustomed to the challenges involved in working in demanding atmospheres. We strive for balance and invest in our teams. Our in-house developed Culture Infusion program supports work/life balance and creates thriving attitudes in all areas."
The Washington Post hosted an awards ceremony on Thursday, June 20 to recognize the top-ranked companies. For more about The Washington Post's Top Workplaces and to view the full list of honorees visit Top Workplaces 2019
About Actualize Consulting
Actualize Consulting is a professional services firm specializing in business process engineering and technology implementations for financial institutions. With offices in the US (New York and Northern Virginia), Canada, and the UK (London) we are able to keep our finger on the ever-changing pulse of the Capital Markets, Treasury, Mortgage and Fixed Income areas. We serve mortgage firms, banks, insurance companies and other financial institutions, Federal and State Government, as well as specific activities of Fortune 1000 firms.