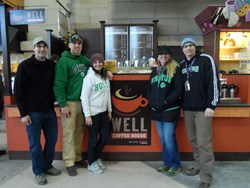 Giving back is one of our core values here at Crimson Cup. We consider it an honor to help establish a coffee house that supports great causes while serving great coffee. - Greg Ubert
Columbus, Ohio (PRWEB) February 07, 2014
Travelers through Boston's South Station train terminal can now enjoy handcrafted coffee for a cause. Staffed by volunteers from an East Boston church, [The Well Coffee House opened Jan. 21 at 2 South Station, Suite A6, serving beverages from Ohio coffee roaster Crimson Cup Coffee & Tea along with big helpings of compassion and charity.
The Well Coffee House is an outgrowth of Church @ The Well, a nondenominational Christian ministry headquartered in the Old Firehouse at 260 Sumner Street. The ministry was founded by Lead Pastor Kevin Scott and Associate Pastor Matt Love, who moved from California with wives Christy and Julie to plant the church in Boston.
Their original vision was to incorporate a coffee house into the church, but finding a suitable space proved difficult. As they viewed the traffic moving through South Station, they conceived an idea for a separate coffee house that would raise funds for their nonprofit church and other area nonprofits.
To bring their vision into reality, the two couples contacted Crimson Cup Coffee & Tea, an Ohio coffee roaster that offers a coffee franchise alternative for those looking to start an independent coffee shop. Through a program based on the book, "Seven Steps to Success in the Specialty Coffee Industry," by company Founder and President Greg Ubert, Crimson Cup teaches prospective owners everything they need to run a successful coffee house. From developing a business plan to choosing a location to hiring and managing staff, the program turns raw recruits into seasoned baristas and coffee house managers in a matter of months.
Unlike coffee franchises, Crimson Cup never takes a one-size-fits-all approach to coffee shop creation. Because space is at a premium in the South Station terminal, Crimson Cup consultants designed a highly efficient layout for a shop occupying only 92 square feet. As a result, baristas can craft drinks quickly for time-pressed travelers.
Crimson Cup helps owners put their stamp on an independent business that reflects their individual tastes and the needs of their local community. For The Well, that meant nurturing its faith-based community and other local nonprofits.
With a motto of "Coffee – Love – Community," The Well Coffee House "combines high quality espresso based drinks with superior service, a friendly atmosphere and a love for the community." Each month, The Well plans to donate a percentage of profits and contents of its donation jar to a new nonprofit, beginning with Boston-area youth music organizer Zumix.
"Giving back is one of our core values here at Crimson Cup," Ubert said. "We consider it an honor to help establish a coffee house that supports great causes while serving great coffee."
Sourcing and roasting great coffee has been Crimson Cup's mission since its 1991 founding. "Specialty coffee customers are passionate about the quality and origin of their coffee," Ubert said. "Our beans are sustainably sourced and roasted by hand to produce coffee that consistently wins blind-tasting competitions."
Even though The Well Coffee House sits within 100 feet of half a dozen national chains that sell coffee, Matt Love has observed that Crimson Cup beverages outshine the competition. "People will walk by with their coffee cups, whether it's a latte, straight coffee, or some other iced drink," he said. "After just one sample of our coffee, we've seen them dump a full coffee drink in the trash and buy another one from us."
The Well Coffee House is open 7 a.m. to 7 p.m. Monday through Friday. Customers choose from a full menu of hot and cold specialty coffee drinks, including handcrafted espressos, lattes, cappuccinos and mochas, as well as frozen smoothies, hot chocolate and premium hot and iced teas.
About Crimson Cup Coffee & Tea
Since 1991, Crimson Cup Coffee & Tea has hand-roasted specialty coffee in Columbus, Ohio and taught independent business owners how to be successful through its coffee shop franchise alternative program. Sustainably sourced Crimson Cup coffee is available through a network of more than 350 independent coffee houses, grocers, college and universities, restaurants and food service operations across 28 states, as well as the company's own Crimson Cup Coffee House in the Columbus suburb of Clintonville. For more information, visit crimsoncup.com.