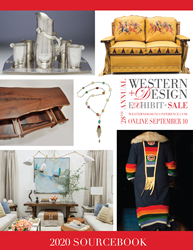 The new interactive sourcebook features fabulous pieces created by returning and new juried artists.
JACKSON HOLE, Wyo. (PRWEB) September 23, 2020
The highly anticipated Western Design Conference 2020 Digital Sourcebook has officially launched, offering collectors, design aficionados and anyone who appreciates fine American contemporary craft the opportunity to source, commission and shop juried artists' pieces from all over the country. The new interactive sourcebook, online at http://www.westerndesignconference.com, features fabulous pieces created by returning and new juried artists, who are ready to answer questions and provide a simple way to make purchases online until the in-person Jackson Hole event returns in 2021.
While the 28-year-old Western Design Conference Exhibit + Sale (WDC) typically connects artists and buyers in person at a four-day event held each September in Jackson, Wyoming, this year, in response to local Covid-19 precautions, the WDC created the 2020 Digital Sourcebook as a way to continue to directly unite artists with buyers from across the country. Live online until September 2021, the virtual marketplace gives shoppers plenty of time to peruse the museum-quality works for sale and select special pieces for themselves or others.
The Western Design Conference Digital Sourcebook features incredible functional art in the following categories to shop online: Accents, Art to Wear Jewelry, Fashion, Leather, Metal, Mixed Media, Woodworking and more. WDC Digital Sourcebook shoppers can find extraordinary handcrafted pieces for the home, from a stunningly intricate curved wooden backgammon board by North Carolina furniture maker Brian Boggs to luxuriously soft textured throws by new WDC Utah-based mother-daughter design team Albrea.
Meanwhile handcrafted Art to Wear Fashion in the form of jewelry, apparel and hats comes in a variety of fabulous handcrafted looks such as gemstone earrings and necklaces from Houston's Mirta Tummino Studio, dramatic leather- and lamb-trimmed riding ponchos and capes from Jypsy Soul Design that begin with authentic Pendleton wool, and stylish handbags that epitomize the modern West from Beargrass Leather, created in Montana from supple leathers including American bison, cowhide and suede.
Shoppers can connect directly with the WDC artists through the Sourcebook to ask questions and gather more details on special pieces before determining how they would like to make a purchase. The WDC Digital Sourcebook will be online until the annual design celebration returns in person to Jackson Hole, September 9-12, 2021.
About the Western Design Conference Exhibit + Sale:
The annual Western Design Conference Exhibit + Sale is a four-day, multimillion-dollar event that brings together craftspeople, collectors, interior designers, architects, fashion designers and the general art-loving public with a love of the West. The Western Design Conference was founded 28 years ago in Cody, Wyoming, to promote contemporary artists working in historical American craft methods. The Western Design Conference Exhibit + Sale moved to Jackson in 2007; Allison Merritt continues the strong commitment to Western arts in Wyoming while expanding the reach of the show, including a pivot to an all-new digital marketplace in response to the COVID-19 consequences that necessitated the cancellation of the in-person 2020 event. Additional information is available at and on https://westerndesignconference.com/ and on Facebook and Instagram.