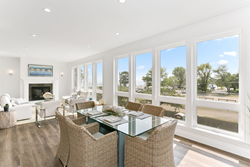 WESTPORT, Conn. (PRWEB) December 04, 2018
Designed by Catherine Taylor, Vice President of Connecticut Valley Homes, and manufactured by Ritz-Craft, this 2700 sq ft beachfront contemporary style home exudes elegance. Nine-foot ceilings and an open floorplan create a sense of spaciousness and a multitude of windows maximize the views.
The five-bedroom and four-and-a-half-bathroom home has reverse living features on the second floor including en suite bathrooms. The magnificent master bedroom has its own laundry room, a gathering space with a wet-bar, and a walk-out to the pool.
The living space is located on the third floor and features a fireplace and floor-to-ceiling windows that highlight the amazing views. Panoramic views of the Long Island Sound remain undisturbed by the glass railing on the luxurious rooftop deck. The walk-out basement features a game room and a large overhead glass door that opens to the in-ground pool. The home can be monitored remotely with Ring doorbells and August Smart Locks.
About the Modular Home Builders Association:
The MHBA is the only national non-profit trade association exclusively serving the modular home industry. Each month the association selects a home from its members to highlight the advantages of modular construction. For more information on MHBA, modular homes, and the monthly contest, please visit http://www.modularhome.org.