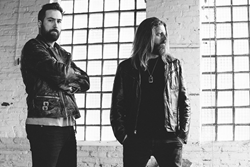 NASHVILLE, Tenn. (PRWEB) August 10, 2018
Nashville, TN based rock/pop duo The White Wolves have released the music video for their new single "Burning It Down" online at https://youtu.be/KRjOc7cLFj8. The song was recorded at Rivergate Studios in Nashville under the watchful eye of producer and former Shinedown guitarist Jasin Todd and 3 Doors Down guitarist Chet Roberts engineering the track. The group is also joined by drummer Brad Pemberton (Ryan Adams, Steve Earle), and Terry McDermott (Drive Blind, Lotus Crush) on vocals for "Burning It Down". The video was shot in Nashville, TN with director Joshua Mendez and captures the song's message about burning down the barricades that try to obstruct love.
"This song is about the internal struggle of not letting your past relationships dictate your future relationships. It is about burning down those insecurities so you could potentially love the same again," said Charles Feltner from The White Wolves. "The video is a representation of the feeling you have when you meet someone you like and you feel that instant hesitation. Is this person good for me or not. We chose this as our first single because we bonded off similar experiences with this same problem. Writing 'Burning It Down' is our way of facing that problem head on, and the hope that the message can shed some light for someone else."
The White Wolves is the musical brainchild of Todd Burman and Chuck Feltner. Over the last decade, they individually and collectively have written hit songs in the US and had the honor of producing, writing, performing and recording with some of the best in the business. From Grammy Award-winning and Grammy Nominated producers, mixers, writers, artists, engineers and multi-platinum selling artists across the US.
The White Wolves is a unique recording experience that brings together Feltner and Burman's expert musicianship and then adds in a guest vocalist and guest musicians on every track that adds with their own unique flavor. The White Wolves approach is classic iconic songwriting that will breathe life back into you and ignite your inner primal animal, heighten your senses and make you crave more.