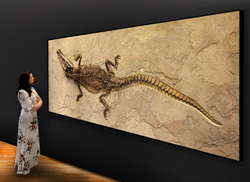 Staring into the face of a 50 million-year-old crocodile, or a giant turtle larger than most humans, is surreal. In our intimate gallery setting, these ancient fossils suddenly become real.
NEW YORK (PRWEB) February 27, 2019
Fifty million years ago, southwestern Wyoming's tropical freshwater lake was filled with life—turtles, fish, crocodiles, and plants. Today the petrified lake has transformed into a stunning quarry of fossils, embedding the past into layers of stone. Beautifully preserved, the fossils are meticulously removed by the Green River Stone Company, one of the world's leading experts in fossil preparation and preservation. A stunning example of natural art, selects of the company's finest murals will be on display in "Ancient Treasures: Fossils from The Eocene," from May 9th-August 3rd 2019, at the Wilensky Gallery. Perfect for collectors, interior designers, museums, and art lovers alike, the exhibition will highlight important pieces from the Eocene's natural creations in Wyoming.
Two rare and historic turtle fossils will be shown—the first from the hard-shell Baenidae family of cryptodiran turtles, which became extinct during the Eocene, and first appeared during the Jurassic. This fossil is one of only a handful of complete adult fossils found, and is of the rarer of the two Baenidae species, "Arenosa." In addition, the giant fossil soft-shell turtle "Axestemys byssinus" will be on display, as one of the top two turtles ever found. At 95% complete, the exquisite composition and handsome shell make this an aesthetic marvel. With less than twenty-five complete Axestemys Byssinus ever found, this is amongst the most sought-after fossils, admired for their size.
Stuart Wilensky, President of Wilensky Fine Minerals, says, "We are very excited to be the exclusive NYC gallery to display the very finest examples of the famous Green River Wyoming fossils. The pieces that will be on display are our only view into life from Earth's past. Surrounded by these ancient extinct creatures is the closest we will ever get as humans to time travel. Staring into the face of a 50 million-year-old crocodile, or a giant turtle larger than most humans, is surreal. In our intimate gallery setting, these ancient fossils suddenly become real. They are no longer untouchable museum displays behind glass. Reaching back into the oldest life which inhabited our planet. Anatomically modern humans came into being about 300,000 years ago, these creatures had already been fossils for fifty million years. It is impossible for us to truly conceptualize these vast periods of time. Every fossil on display will be available for purchase. This will be a unique opportunity to assemble one of the world's finest collections of fossils in North America."
Another incredible piece on display will be the Green River Crocodile. The crocodile "Borealosuchus wilsoni" measures 13'-5" feet long, and is wall mounted to support its 1,000-lb. weight. The crocodile is beautifully articulated, as if fossilized in midstride. This is quite rare for a large-bodied creature. They are more typically found with bones in a jumble, looking like a broken-up puzzle. The detail seen in this rare crocodile fossil is exceptional, including multiple sets of large and small teeth, perfectly arranged dorsal scutes, a protruding spine, and partially exposed ribs.
The exhibit introduces viewers to fossil fine art, celebrating the wonder and aesthetic of exceptional specimens, opening collectors to incorporating natural art in the home or office. Douglas Miller, a Partner at Green River Stone Company, says, "We are excited about having this exhibit of fossils in New York City, the heart of the contemporary art world. My company's vision has always been to walk the line between science and art by providing visually beautiful works of natural art, while maintaining the traditions of paleontology. Beyond the physical beauty of the work, one is struck by the age and passage of time. Time not in decades or centuries, as we are accustomed, but in tens of millions of years…the time required to transform living creatures into solid stone."
"Ancient Treasures: Fossils from The Eocene" runs from May 9th – August 3rd 2019, Monday through Saturday, from 11:00 AM-6:00 PM at the Wilensky Gallery at 173 10th Avenue, New York, NY, 10011. For questions regarding minerals or sales, contact the gallery directly at info@wilenskyminerals.com, call 646-822-0837, or visit http://www.wilenskyminerals.com. For press inquiries, or questions regarding this release, contact Olga Gonzalez at Pietra PR at info@pietrapr.com, or 212-913-9761.
About Wilensky Fine Minerals
Wilensky Fine Minerals has entered a new chapter with the opening of a gallery in the Chelsea art district of NYC, presenting fine minerals among the world's great art galleries, displaying minerals as works of art. The gallery opens up the amazing world of minerals to everyone. Minerals are displayed alongside neighbors exhibiting Warhol, Basquiat, Pollock and Picasso. Achieving the impact of art through natural mineral specimens is the goal. Not a competition, but a convergence.
About Green River Stone Company
Internationally known for museum quality fossils and expert old-world craftsmanship, Green River Stone Company produces one-of-a-kind wall murals, tables, countertops, and tiles for customers. It is an American company dedicated to the creation of timeless works of art and design using fossil-rich limestone. The stone is harvested from Green River's private quarry in Southwestern, Wyoming, then transported to fossil preparation labs in Logan, Utah, where each product is built by hand. Fossils are collected and prepared in adherence to strict guidelines established by the American Association of Paleontological Suppliers Code of Ethics, State and Federal Laws.