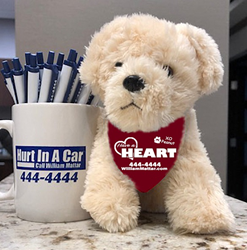 "St. Luke's depends on donations and volunteers to keep the shelter and meal programs going," William Mattar
BUFFALO, N.Y. (PRWEB) February 07, 2019
Buffalo auto injury attorney William Mattar has been focused on helping people for many years, but this month they would like to help spread the word about a group of volunteers who work tirelessly to help the homeless. During the month of February, the William Mattar Have a Heart campaign encourages everyone to 'have a heart' and support St. Luke's Code Blue homeless shelter. When you support the shelter, you can then go to williammattar.com and request a limited edition Peanut Butter plush toy. As you may know, Peanut Butter Mattar is the sweet and spunky cockapoo member of the family who helps William Mattar on the annual Rescue a Shelter Animal campaigns in Western and Central New York. An 8" replica plush of the beloved canine is a thank you gift to those who respond to the call for action to help support St. Luke's Code Blue shelter.
It's easy to support St. Luke's and just as easy to register for your Peanut Butter plush. Just go to the Community section on the firm's website, williammattar.com. Learn more about St. Luke's and their community programs, how many their 100% donation and volunteer-based programs serve each year, and follow the link to support them. Then fill out the registration form from the firm to claim your plush.* (*This limited edition Valentine Peanut Butter plush is available while supplies last.)
About William Mattar, PC
William and Kathleen Mattar are long-time supporters of St. Luke's and countless other organizations. Auto injury attorney William Mattar's monthly safety and community campaigns include Buckle Your Belt, Pencils 4 Schools, Rescue a Shelter Animal, and Safe Home 4 the Holidays just to name a few. Learn more about the community work they do in addition to helping thousands across New York State with their auto injury cases. Their team is available to help 24/7. Hurt In A Car Call William Mattar. 444-4444.