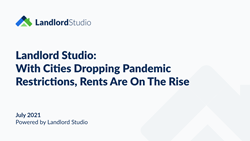 There have been dramatic shifts in renter demands with unexpected mass migration from city centers, causing rent prices in locations like New York and San Francisco to drop sharply towards the end of 2020 – Logan Ransley, Co-Founder of Landlord Studio
SAN FRANCISCO (PRWEB) July 20, 2021
Landlord Studio has released their newest National Rental Index which combines national data with their unique dataset of current landlords. The report offers new insights into the evolution of the rental market landscape throughout the pandemic.
According to the report, occupancy rates dipped by 1% in the first half of 2021 - as landlords, unable to evict due to the federal eviction moratorium in place through July 2021, are being especially selective of new tenants. Additionally, rent is taking longer to come in with a 4% drop year on year in rent collected by the due date in April 2021. A trend that suggests many tenants are feeling the financial repercussions of the pandemic, financial strain, which is being passed onto landlords.
Despite this, an undersupplied market has led to record appreciation and rent growth in the real estate market. The low inventory that has led to affordability concerns has driven the national median house price to reach $350,300 in May 2021, up 23.6% from May 2020 according to Zillow.
On top of this, rents are showing good growth nationally compared to last year. June 2021 saw a 4.9% rise in median one-bedroom rent, year over year, and a 6.5% rise in two-bedroom rents. This is even more significant because 2019 rent appreciation was fairly flat and growth was stunted in 2020 due to the COVID-19 pandemic.
These trends in growing vacancy rates and delayed rent collection make now a challenging time for mom and pop landlords as a single-tenant unable to pay rent could be devastating. Plus, the high prices and increased risks are proving a tough market for new home buyers or investors. However, these trends of appreciation and rent growth paired with historically low mortgage rates make now a particularly good time for landlords with larger portfolios to increase the profitability of their current rentals by lowering their interest rates and selling underperforming property to consolidate assets.
About Landlord Studio
Landlord Studio offers industry-leading property management and financial tracking solutions for real estate professionals. They were rated as the most usable property management software by Gartner in 2020 and are improving the lives of landlords and tenants by arming them with the knowledge and tools required to make renting easy. Thousands of landlords from over 70 different countries already use Landlord Studio to save time and money by simplifying and automating the rental process