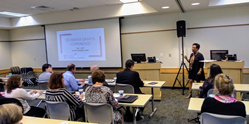 "I started The Word Woman LLC to help nonprofits leverage their passions with skills and knowledge rooted in best-practices." - Michelle Nusum-Smith, Founder and Principal Consultant at The Word Woman LLC
FREDERICK, Md. (PRWEB) July 09, 2020
After nearly 20 years in the nonprofit sector, Michelle Nusum-Smith, founder and principal consultant at The Word Woman LLC, started the company in July 2010 to help new and emerging nonprofit organizations achieve their missions. Back then, the consulting practice primarily provided grant writing services.
Over the first six years, The Word Woman LLC grew into a full-service firm providing consulting, coaching, and training services to help new, emerging, and well-established nonprofit organizations as well as individuals and government agencies to enhance their skills, knowledge, and resources. The company's menu of services includes helping to form a nonprofit and obtain 501c3 tax-exempt status, grant writing and fundraising support, board development, strategic planning, and program design, development, and evaluation.
"Over my many years working in the nonprofit sector, I saw time and time again that although there was usually no shortage of passion for the causes my colleagues were working on, they didn't always fully understand how nonprofits are businesses and there are best-practices for nonprofit success," said Nusum-Smith. "So, I started The Word Woman LLC to help nonprofits leverage their passions with skills and knowledge rooted in best-practices."
Since its inception, the company has launched new programs and services designed to make it easier for nonprofits to enhance their capacity. In 2015, The Word Woman LLC launched the Pay-What-You-Can Nonprofit Training Program. In 2016, it launched MISSION LAUNCH: Nonprofit Group Coaching. And in 2019, it launched Nonprofit Coffee Chat, a free weekly gathering where nonprofit leaders, staff and volunteers meet with Nusum-Smith to network, exchange ideas, lessons learned, and learn best-practices.
Now in its tenth year, The Word Woman LLC is a recognized leader in the consulting market with a portfolio of clients including local charities, national and international nonprofits, and state and local government agencies.
In honor of 10 years in business, The Word Woman LLC will present six online training events during the month of July for just $10 each:
July 14 How to Start a 501c3 Nonprofit
July 16 Grant Writing for Beginners
July 20 How to Find Grants for Your Nonprofit
July 22 Grant Writing: Program Evaluation and Outcomes
July 28 Board Member Recruitment and Onboarding
July 30 Fundraising Planning for Nonprofits
For more information about the trainings and registration, go to thewordwomanllc.eventbrite.com
"The Word Woman LLC has experienced exceptional growth and development over the past few years," said Nusum-Smith. "Moving forward, we will continue to develop new ways to offer high-quality, professional yet affordable services and support to our nonprofit and government clients."
To learn more about The Word Woman LLC, please visit http://www.thewordwomanllc.com.
About The Word Woman LLC
The Word Woman LLC is a small, minority and woman owned, licensed full-service consultancy located in Frederick County Maryland. A local company with a global reach, The Word Woman LLC offers a range of high-quality consulting, coaching, and training services to help nonprofits, government agencies and individuals achieve their goals. Since its inception in 2010, The Word Woman LLC has provided personalized and customized services to a diverse portfolio of clients and has trained thousands at public and private training events and conference presentations. For more information on The Word Woman LLC, please call 240-215-4984 or visit thewordwomanllc.com