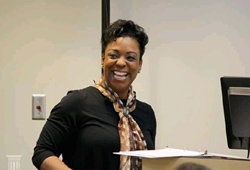 "Having this certification provides a great deal of benefits and demonstrates that we meet the requirements to do business as a minority business entity with large corporations, local, state, and federal government departments." - Michelle Nusum-Smith, The Word Woman LLC
FREDERICK, Md. (PRWEB) November 18, 2020
The Word Woman LLC is proud to announce that it has received the Minority Business Enterprise (MBE), Disadvantaged Business Enterprise (DBE), and Small Business Enterprise (SBE) certifications through the State of Maryland's Office of Minority Business Enterprise. Achieving MBE certification was a goal set as a key milestone by Michelle Nusum-Smith, founder and principal consultant at The Word Woman LLC, and comes only months after the Black-owned, woman-owned full-service consulting firm celebrated its 10th year in business.
Since 2010, The Word Woman LLC has built a strong reputation serving and working collaboratively with nonprofits and government agencies. The firm now appears in the State of Maryland's Directory as a certified MBE/DBE/SBE vendor with the Business Enterprise Program in the following specialty areas:
541611 - Administrative Management and General Management Consulting Services
561410 – Document Preparation Services (Specifically: Document Preparation, Editing Services, Proofreading Services)
561499 – All Other Business Support Services (Fundraising Campaign Organization Services on a Contract or Fee Basis)
611430 – Professional and Management Development Training
711510 – Independent Artists, Writers, and Performers (Specifically: Independent Speakers, Independent Writers)
Nusum-Smith is extremely pleased to receive this MBE certification. "Having this certification provides a great deal of benefits and demonstrates that we meet the requirements to do business as a minority business entity with large corporations, local, state, and federal government departments. MBE certification will help us continue to grow and to develop more partnerships," she said.
To learn more about The Word Woman LLC, please visit http://www.thewordwomanllc.com.
About The Word Woman LLC
The Word Woman LLC is a small, minority and woman owned, licensed full-service consultancy located in Frederick County Maryland. A local company with a global reach, The Word Woman LLC offers a range of high-quality consulting, coaching, and training services to help nonprofits, government agencies and individuals achieve their goals. Since its inception in 2010, The Word Woman LLC has provided personalized and customized services to a diverse portfolio of clients and has trained thousands at public and private training events and conference presentations. For more information on The Word Woman LLC, please call 240-215-4984 or visit thewordwomanllc.com