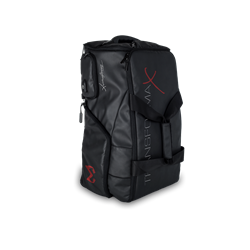 "Our products are designed to change people's lives," says Nabil Khalifa, Co-Founder/CEO of Sigma Fit USA. "We wanted to create a lightweight bag you can weigh, that also solves the bad odor issues every athlete struggles with. We then added all of the features that a traveler/commuter might need."
CHICAGO (PRWEB) October 08, 2018
Sigma Fit USA, a Chicago-based athletic wear company known for creating high-quality, high-tech sports apparel, is releasing a high-tech gym & travel bag designed to help busy travelers and gym goers extend the life of their clothes and reduce water consumption.
Transforma X is made of a durable, waterproof material that is designed to endure harsh conditions. The bag's patented UV/Ozone air purification system kills odor-causing bacteria and freshens soiled clothes and shoes in less than 20 minutes. The bag also features a large, clamshell opening with a separate, built-in compartment that keeps shoes and soiled garments separated from clean clothes as well as several other features designed for maximum functionality:

Removable, combo flashlight and solar USB charger to keep mobile devices charged and ready to use anytime, anywhere
All-in-one smart handle and digital weight scale
Thermal insulator pocket that keeps snacks and drinks hot or cold for up to 5 hours
Fully-integrated survival bracelet with a whistle, compass, knife, and fire starter to help travelers stay warm, signal for help, and get to safety in the time of an emergency
Secure, padded laptop pocket designed to give airport security screeners a clear and unobstructed view of the device within
Padded, anti-scratch tablet pocket with USB charger
Stowable backpack straps with phone sticking pad and Quick Access Pockets for credit cards and cash
Hidden pockets for extra money, passports and important documents
Yoga mat and tripod holder
To be one of the first to experience the bag of the future, visit their Kickstarter page, which officially goes live October 10th. If you'd like to set up an interview with the makers of this innovative brand contact katierose@teamchicexecs.com
About Sigma Fit USA: Sigma Fit USA is a Chicago-based athletic wear company founded by Nabil Khalifa, Omar El Metwally, and Islam Rashwan, three former petroleum engineers who wanted to create affordable, high-quality fitness products that can solve everyday problems. All of Sigma Fit's products combine natural materials with nanotechnology that can maintain body warmth for longer periods of time, cool the body, kill bacteria, repel liquids, dry faster, and/or reduce stains and body odor. For more information about Sigma Fit and its range of product offerings, visit http://www.sigmafitus.com.