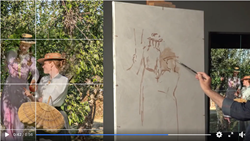 The world is learning to paint and draw
BOCA RATON, Fla. (PRWEB) April 30, 2020
What do people do once they've binge-watched every episode of every show and then seek to fill their time? According to Eric Rhoads, CEO of Streamline Publishing, "The world is learning to paint and draw."
Rhoads, who produces art instruction with top master artists, says his business has seen a 60 percent growth in purchases of online art lessons since the quarantine began, and has gained new viewers from across the world. He cites visitors from Iraq, Spain, Sweden, Norway, Singapore, Iran, Italy, New Zealand, Iceland, and Germany.
With free sample instruction lessons daily on Streamline Art Video's Facebook and YouTube pages, viewing has soared. In the last 30 days, the company's free video segments have seen 2 million views.
"People are using this time to learn something they've always wanted to learn, especially when it comes to hobbies like painting. In their busy lives, they don't normally have the time to learn and play," says Rhoads.
To help people discover painting techniques, Rhoads' company is producing a daily art instruction segment with many of its 400 artists for those interested in oil painting, drawing, digital painting, and watercolor. Instructors have been teaching landscape painting, plein air (outdoor) painting, portraiture, florals, and still life, as well as drawing and painting the human figure.
Rhoads was interviewed on the Sunday with Sterling national radio show with host Walter Sterling, who said, "I've always believed painting was hard to learn and required some special talent. Isn't that true?" Rhoads responded, "Actually, it's a myth. People don't believe that lawyers or brain surgeons have natural talent because theirs are learned skills. Musicians have to learn notes, practice scales, and read music to play music, which is a learned skill. Painting is also a learned skill, and it turns out it's pretty easy to learn. The biggest battle is people's own mindset because they have believed this talent myth about art."
He continued, "I believe that anyone who can follow a recipe can learn. I could not draw a stick figure and had zero talent, yet today my work sells in art galleries and I'm teaching painting. I did not think it was possible, but it is."
On the radio show Rhoads offered free online lessons he believes can teach anyone to paint, as he once learned the 400-year-old techniques his mentor passed on to him.
Paint by Note: Art for Beginners
One day when Rhoads was painting with music on in the background, he realized his system could be simplified by relating it to music. "In music we have to learn a scale of eight notes," he says. "In painting there are also eight 'notes.' If you can learn those eight notes, you have a foundation to do any painting." Rhoads says he has taught more than 20,000 beginners using his system, which he offers for free at http://www.paintbynote.com.
"Artists are wonderful, happy people because they are doing what they love and being creative," he says. "I think this is a time when people are evaluating their lives and realizing that they need something like painting to enrich their lives. That's why we're seeing so much growth. They have the time and the desire."
Free daily art lesson segments from top master painters can be found at 3 p.m. Eastern on Facebook Live (http://www.facebook.com/Streamlineartvideo) and YouTube (http://www.youtube.com/streamlineartvideo).
Streamline companies offering art instruction include http://www.streamlineartvideo.com,
http://www.liliartvideo.com, http://www.ccpvideo.com, and http://www.painttube.tv. The company also has a Roku and Amazon Fire channel called PaintTube.