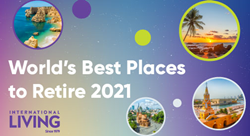 "Like everywhere in the world, the pandemic has dealt the Costa Rican economy a harsh blow and put strains on the healthcare system. Even so, the country remains a good long-term bet as we move towards a post-COVID world, given its natural beauty, resilient population, and progressive vision."
BALTIMORE (PRWEB) January 02, 2021
InternationalLiving.com, the leading authority on global retirement and relocation opportunities, has just released its 30th Annual Global Retirement Index for 2021.
Using International Living's vast network of on-the-ground contacts and correspondents around the world, this annual Index is designed to be a useful tool for potential expats trying to find the place that's right for them. The Index is constructed of statistics but also of real-world, practical, on-the-ground intelligence, experience, and opinion provided by International Living's editors and correspondents based around the world.
Across ten categories, readers can quickly and constructively compare and contrast countries in terms of their cost of living, housing, healthcare, retiree benefits, and more.
"All 25 destinations are worth your attention," says Jennifer Stevens, International Living's Executive Editor. "But this Index is most useful when you come to it with an idea in mind about what your ideal destination might look like. What's most important to you—the cost of living, proximity to home, having a beach or lots of cultural activities close at hand, the climate?
"Whether you're looking for a friendly, good-value city… a tropical beach… a cool, highland retreat… an historic colonial enclave… or a quiet lakeside getaway… this Index can help point you to your best options on the planet today.
"Our choice of countries reflects a huge range of lifestyles and locations—they're the places we think you'll find the best combination of factors to suit your overseas retirement. We've got people on the ground in each of them, reporting facts and figures, and sharing their insights about the places they're proud to call home.
"These are locations where—as the expats on the ground regularly report—it's easy to feel healthier, happier, and less stressed. As expats Tom and Diane Brown, originally from Washington State, put it, speaking from their new home in Costa Rica's Central Valley, "We live very comfortably on our two Social Security checks and my pension. We can easily live on $3,000 month here, including a gardener and a maid. We also put away $500 each month for travel."
According to InternationalLiving.com's 2021 Global Retirement Index, the world's top 10 retirement destinations are:
#1 Costa Rica
#2 Panama
#3 Mexico
#4 Colombia
#5 Portugal
#6 Ecuador
#7 Malaysia
#8 France
#9 Malta
#10 Vietnam
Simple living, in a society where you are cared for, with a cost of living that you can easily afford—those are all reasons why we're proud to announce Costa Rica as the leader in International Living's Annual Global Retirement Index for 2021, and why so many expats love this heavenly slice of Central America.
Costa Rica attracts millions of visitors and foreign residents throughout the year with its tropical climate; lower cost of living; friendly locals; affordable medical care; vast real estate options; and, of course, its natural beauty.
"One of the things you hear often from expats is how warm and welcoming the ticos (Costa Ricans) are," says Kathleen Evans, International Living's Costa Rica correspondent. "They are wonderful people, eager to share the magic of their culture, food, and traditions with foreigners.
"You will also find engaging international communities of expats who will help you through the process of acclimation. The vast majority of new arrivals say it is very easy to make friends and fit in here.
"A couple can live comfortably, but not necessarily extravagantly, here for around $2,000 a month. This includes renting a two-bedroom home with North American amenities, air conditioning, plus groceries, entertainment, transportation, and healthcare. If your monthly budget is closer to $2,500 to $3,000, you will find a relaxed lifestyle with every comfort you require.
"Like everywhere in the world, the pandemic has dealt the Costa Rican economy a harsh blow and put strains on the healthcare system. Even so, the country remains a good long-term bet as we move towards a post-COVID world, given its natural beauty, resilient population, and progressive vision."
International Living's 30th Annual Global Retirement Index is the most comprehensive and in-depth survey of its kind. Their editors and correspondents focus on actually living overseas, not on finding this month's fashionable vacation spot. They're reporting hard facts and practical details such as rental costs, medical provision, and economic stability, as well as the more enjoyable things like climate and the cost of a nice meal out.
"In an era when most news outlets have slashed their budgets and cut their overseas bureaus…and at a time when it's harder than ever to ferret out the truth…we put our 2021 Global Retirement Index together the old-fashioned way," says Stevens.
"That is to say: We put boots on the ground…just as we have each of the last 30 years we've published this country comparison."
International Living's complete 2021 Annual Global Retirement Index, including more information on the winner and the other nine countries that made it in to the top 10—as well as the individual rankings in all 10 categories for all 25 countries included—can be found at: The World's Best Places to Retire in 2021.
Members of the media have permission to republish the article linked above once credit is given to Internationalliving.com
Further information, as well as interviews with expert authors for radio, TV or print, is available on request. Photos are also available.
For information about InternationalLiving.com content republishing, source material or to book an interview with one of our experts, contact Editorial Director for Web Content, Social Media, and PR, Donal Lucey, dlucey@internationalliving.com.
Instagram: https://www.instagram.com/internationalliving/
Twitter: @inliving — https://twitter.com/inliving?lang=en
Facebook: https://www.facebook.com/International.Living/
About International Living
Since 1979, InternationalLiving.com has been the leading authority for anyone looking for global retirement or relocation opportunities. Through its monthly magazine and related e-letters, extensive website, podcasts, online bookstore, and events held around the world, InternationalLiving.com provides information and services to help its readers live better, travel farther, have more fun, save more money, and find better business opportunities when they expand their world beyond their own shores. InternationalLiving.com has contributors traveling the globe, investigating the best opportunities for travel, retirement, real estate, and investment.