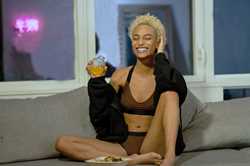 SOMI Underwear for Everywhere is ideal for traveling when a swimsuit, workout gear, or a hiking outfit is needed on the fly
NEW YORK (PRWEB) June 17, 2020
SOMI Apparel launches the world's most versatile undies. The SOMI 'Underwear for Everywhere' line can be worn from the boardroom, to the gym, to the pool, and for lounging indoors. It's ideal for traveling when a swimsuit, workout gear, or a hiking outfit is needed on the fly. SOMI is now available on Kickstarter.
Made from Sustainluxe, a sustainable Silk Jersey alternative, SOMI undies are the perfect space-saver for travelers looking to reduce their carbon footprint – each set saves 6 water bottles from becoming waste. The water bottles are transformed into a breathable, 4-way stretch that is soft and silky. This sustainable Silk Jersey is machine washable, dries quickly and can jump into the pool or the ocean at a moment's notice.
The inspiration: Tired of forgetting to pack her swimsuit in an overflowing suitcase, SOMI founder Lana Li realized that there was no reason why bras and panties couldn't also function as swimwear or workout gear. She wanted undies that were stylish yet comfortable, durable enough to machine wash, and eliminated the need to pack expensive swimsuits and sports bras on trips.
Why this underwear can be worn everywhere:

Elegant, minimal design doesn't sacrifice style for sustainability or functionality
The tops have no padding or underwires, so a week's worth of bras and undies takes up no more room than a pair of flip flops
Breathable, moisture-wicking, antibacterial, and dries within two hours, perfect for anyone that breaks a sweat
No awkward lumps or bumps under clothes. No bra hooks or swimsuit hooks that broadcast what it's supposed to be worn for.
Why SOMI matters for the environment:

The fashion industry is responsible for 10% of worldwide carbon emissions
SOMI's new line is made from reclaimed water bottles, reducing water use by 80% during production
Each set saves 6 water bottles from becoming ocean waste
Reduction and reuse of existing garments is one of the top ways to be eco-friendly
Style descriptions:

The Maverick Bottom - cheekies that are perfect for workouts, swimming laps, or just wearing every day
The Betty Bra - cross back bra with seamed cups offering extra support and coverage. Great for swim and gym.
Men's Boxer Briefs - perfect French cut briefs cut to lengthen the legs and give definition to the waist
The Deep Dive - plunge bra that works great as a swimsuit or yoga top
The Versatile – a sophisticated take on the classic bralette that doubles as a bikini top
The Minimalist - bandeau top that offers flexibility as a swimsuit top
SOMI SeaSaver washbag:
In addition to using recycled textiles, SOMI wanted to reduce the spread of microplastics that come from washing synthetic apparel. The SOMI SeaSaver washbag is offered as an add-on for the Kickstarter campaign – free for the first 100 Kickstarter backers.
About microplastics and how the SOMI SeaSaver washbag helps:

Microplastics are tiny pieces of plastic shorter than 5mm in length, often shed during laundry, that end up in waterways and ingested by sea animals.
You can reduce microplastic shedding by using a SOMI SeaSaver washbag, made from a 50-micron mesh that traps fibers rather than releasing them.
For more information and to purchase the SOMI 'Underwear for Everywhere' line at early-bird discounts during crowdfunding, visit the SOMI Campaign Page on Kickstarter. Visit the SOMI Apparel Press Kit for images, logo, headshots.
ABOUT SOMI APPAREL
As the only apparel category that can't be sold used, everyday intimates and swim need to withstand long term use without compromising style, comfort, or performance. SOMI was started with the goal of creating eco-friendly, ethically made undies. The brand focuses on reducing ocean pollution via recycled materials and the SOMI SeaSaver washbag which filters out microplastics shed from synthetic fabrics during laundering. All suppliers and factories are vetted to be sweatshop-free and treat their workers fairly.
ABOUT LANA LI
Lana Li (CEO) is an entrepreneur with experience launching both innovative consumer brands and software companies. She previously did design work for Puma, Blue Apron, and Bose. After college, she backpacked around Southeast Asia and later, went to many conferences where she packed five dresses but forgot a swimsuit, sports bra, socks, charger, and toothbrush. She graduated from Harvard College and lives in NYC with her sausage dog named Derp.