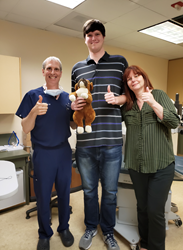 We have had super tall patients like NBA basketball players such as Rudy Gay, but I have never operated on someone as tall as Kevin.
LOS ANGELES (PRWEB) August 08, 2018
Kevin Bradford, age 19, the world's tallest teen standing at 7'2" is now in recovery after undergoing the Holcomb C3-R® procedure to save his deteriorating vision from the eye disease called Keratoconus. He is the tallest individual to undergo the unique procedure.
Kevin was recently diagnosed with Keratoconus, a potentially devastating degenerative eye disease that effects 1/500 Americans. Although there are treatment options available, the unique challenges associated with Kevin's extreme height had deterred other eye surgeons from confidently taking on the case.
Kevin's mother knew her only option was to reach out to the "Godfather of Keratoconus," Dr. Brian Boxer Wachler, the Beverly Hills eye surgeon who invented the Holcomb C3-R® to stop Keratoconus from getting worse and save eyesight.
"Since January, we have taken Kevin to 4 other doctors," Says Martha Bradford, Kevin's mother. "I didn't feel confident in those doctors, so I did more research and found Dr. Brian. The decision to travel from Florida to California had presented its challenges. Fitting in airplanes is difficult for Kevin due to height and most hotels he has to sleep on the floor since beds are not long enough. Though, after watching videos and talking to his staff, we knew that Dr. Brian was the best, so we made the trip to California."
Kevin and his mother flew from Florida to Beverly Hills for his sight-saving surgery – Holcomb C3-R® and Intacs cornea inserts.
Now in recovery, Kevin says "In 2016, I was recognized as the Guinness World Record holder for tallest teen ever. Now I will be Dr. Brian's tallest patient ever."
"His procedures went perfect," says Dr. Brian. "He is 7 feet, 2 inches tall. We have had super tall patients like NBA basketball players such as Rudy Gay, but I have never operated on someone as tall as Kevin."
"We had to make special accommodations for Kevin in the procedure room. The patient bed was not long enough. So, we used a modified chair at the bottom of the bed as a rest for his lower legs and feet to keep him stable throughout the procedures. Having his legs dangle a couple of feet over the bottom of the procedure bed would have been risky by making his upper body and head unstable during surgery."
Kevin Bradford was in included in the Guinness World Records for Tallest Teenagers in 2016. In addition, Kevin was included in a documentary called "Tallest Teens," which followed 3 teenagers and the struggles associated with their heights, which aired on TLC Network.
About the Holcomb C3-R® procedure
The revolutionary Holcomb C3-R® procedure, developed by renowned ophthalmologist Brian Boxer Wachler, M.D. in 2003, is a non-surgical, 30-minute, out-patient procedure that is used to treat Keratoconus where the cornea (the outer eye lens) is weak and bulges outwards causing loss of vision. During the treatment, custom-made riboflavin eye drops are applied to the cornea, which are then activated by a special light, ultimately strengthening the weakened cornea and has a 99.3% success rate. This innovative procedure, called the Holcomb C3-R®, was renamed in honor of late Olympic bobsled driver, Steven Holcomb, who won a gold medal at the 2010 Winter Games in Vancouver for the United States and two silver medals at the 2014 Winter Games in Sochi for the United States.*
"Even though Keratoconus may cause people to lose their vision, many of my patients say they felt their vision was robbed from them" says Dr. Brian. "Some call Keratoconus a silent thief in the night. The Holcomb C3-R can stop Keratoconus in its tracks and prevent an invasive and painful cornea transplant."
How it works
The method works by increasing collagen cross-linking in the cornea, which are the natural "anchors" within the cornea, giving it strength. These anchors are largely responsible for preventing the cornea from bulging out, like a hernia, and becoming steep and irregular. Patients, like Kevin, can elect to combine on the same day the Holcomb C3-R® treatment with cornea inserts called Intacs, which help flatten the Keratoconus cone to improve vision.
About Dr. Brian Boxer Wachler, M.D.
"Dr. Brian", as he is known to his patients, is board certified by the American Board of Ophthalmology. For many years, he served as director of the UCLA Laser Refractive Center at the Jules Stein Eye Institute. He is also on staff at Cedars-Sinai Medical Center. He is the author many books, including How We Conquered Keratoconus, Mastery of Holcomb C3-R® Crosslinking, among others Dr. Brian has pioneered surgical techniques and guidelines that have become industry standard.
http://www.KeratoconusInserts.com
Original Letter Sent from Bradford's Mother to Dr. Brian Boxer Wachler
Dear Dr. Brian, My son Kevin Bradford started complaining that his vision was getting worse in September. We took him to the doctor to get glasses. Since then his vision started getting much worse and he started complaining of seeing double vision in his left eye. We took him to a doctor in January and he was diagnosed with Keratoconus. We took him for a second opinion February 23rd at Beraja Medical Institute where they confirmed his diagnosis of Keratoconus.
Kevin is 7'2. He was in the Guinness World Records for Tallest Teenager in 2016. He was also in a documentary called "Tallest Teens" about 3 teenagers and their struggles with their height that was on TLC. It has been difficult for him to get tested for the Keratoconus as some of the machines are too low for him to look through. He had to sit on a cardboard box on the floor instead of the chair. He might even have a challenge with an operating table being long enough if he needs that. I am very concerned with this diagnosis as it would be very difficult for someone so tall to become blind. He would have a struggle with knowing what's above him such as light fixture's, ceiling fans, doorways etc. as much as what's below him.
We have been researching Keratoconus and found your name and information and hope that we are able to get his eyesight repaired. We have seen you on The Doctors show and we sent them an email a couple of weeks ago but have not heard back yet. We know they have recently had this diagnosis on their show so they might not be interested in showing another of the same diagnosis so soon. We do not want to wait to see if they email or call us before gettinghim treated.