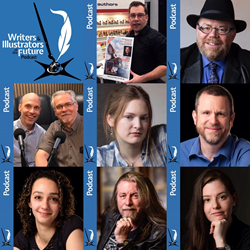 The Writers of the Future Podcast was specifically created to provide hope and inspiration for aspiring writers and illustrators
HOLLYWOOD, Calif. (PRWEB) July 10, 2019
The launch of the Writers of the Future Podcast was announced by host John Goodwin, President Galaxy Press, the publisher of the L. Ron Hubbard Presents Writers of the Future Series.
For 35 years, over 800 winners, and now boasting entrants from over 175 countries, Writers and Illustrators of the Future have been providing "a means for new and budding writers to have a chance for their creative efforts to be seen and acknowledged" as per the mission statement provided by L. Ron Hubbard in the first volume.
"The Writers of the Future Podcast was specifically created to provide hope and inspiration for aspiring writers and illustrators," stated Goodwin. "And what better way than hearing from their peers who have now made the grade, along with judges, many of whom were once winners themselves." Podcast guests include Writers and Illustrators of the Future Contest judges and winners who are able to bring their expertise and personal stories of achievement. "If you haven't listened to an episode yet, they are educational, funny and totally geared for the aspiring writer and artist," he continued. With nearly 30 episodes already produced, there is usable advice for writers and artists everywhere.

David Farland (Runelords, Writers of the Future 3 winner and Contest Judge), Orson Scott Card (Enders Game and Contest Judge), and Tim Powers (On Stranger Tides and Contest Judge) having just completed the weeklong workshop, discuss some of the important topics covered as well as the role Writers of the Future has had in growing the science fiction & fantasy community.
Dean Wesley Smith (Hugo & Nebula award winning author, editor, publisher, Contest judge, originally published in Writers of the Future 1) and Preston Dennett (Writers of the Future 35 winner) discuss the "Topanga Canyon Story," a story of never giving up on one's dreams to be a writer.
Vytautas Vasiliauskas from Lithuania has a message for artists from his country.
Qianjiao Ma from China, after winning the Illustrator Contest, is now living her dream of being an artist as she is working for Warner Bros. animation.
Alice Wang, the youngest winner in Contest history at 15, has a special message to young artists.
Elise Saba Stevens talks on becoming a writer while also being a mom.
Alexander Gustafson has studied much in art school but is only now learning how to survive as an artist since winning the Contest.
Carrie Callahan has a simple message to writers: Don't self reject.
Kevin J. Anderson and Rebecca Moesta (NYT bestselling authors and Contest Judges) speak on the business of writing.
Bob Eggleton (multiple Chesley and Hugo Award winning artist and Founding Illustrator Judge) discusses the importance of art and its role in society.
The Writers of the Future Podcast is available on:
SoundCloud: http://bit.ly/SoundCloudWOTF
iTunes: http://bit.ly/iTunesWOTF
GooglePlayMusic: http://bit.ly/GooglePlayWOTF
PocketCasts: http://bit.ly/PocketCastsWOTF
Stitcher: http://bit.ly/StitcherWOTF
For more information on Writers and Illustrators of the Future, please visit http://www.writersofthefuture.com.