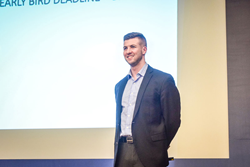 As a small channel, getting a number one ranked video requires the perfect combination of click-through rate, average watch time, and like ratio." says Sean Wiggins
VANCOUVER, British Columbia (PRWEB) February 11, 2020
As of February 2020, North Digital Inc. occupies the top position for the most coveted search terms on YouTube in the dental marketing industry, including: "dental marketing", "dental marketing strategy", and "online dental marketing".
North Digital has successfully out-ranked several other agencies many times larger than itself.
The boutique digital marketing agency based in Vancouver, Canada, couldn't be happier with its decision to start uploading videos to the mega-platform under its founders name, Sean Wiggins.
YouTube is the second largest search engine after Google and according to Hootsuite, has 2 billion monthly active users.
The platform has been making headlines in 2020; from announcing its $5 billion per quarter earnings to clamping down on fake news around turbulent global issues.
YouTube's leading objective is to provide the best experience and the broadest selection of videos to its viewers. For this reason, YouTube often gives small channels a fighting chance at outranking established channels with large subscription bases.
"As a small channel, getting a number one ranked video requires the perfect combination of click-through rate, average watch time, and like ratio." Says Sean Wiggins, founder of North Digital Inc.
North Digital's dark horse video, "Dental Patient Marketing | 2020 Proven System", has its bases covered with a 97.8% like ratio, a six-minute average view duration, and a 6.3% click-through rate. (Source: YouTube Studio.)
"This is the best marketing video I've ever seen. Thanks for the enormous Value!" posts one viewer after watching the video.
Search terms such as "dental marketing" are extremely desirable because they have a high buying intent. For example, while the term "cat videos" is searched 1.17 million times per month on YouTube, it is far less valuable than the search term "dental marketing", which is searched 46.7 thousand times per month on YouTube. (Source: TubeBuddy.)
When an individual searches for the term "dental marketing", he or she is likely looking to spend money and hire an agency, and this is what North Digital has prepared for. The video description encourages the thousands of viewers each month to click through to the North Digital website and contact the agency about dental marketing services.
In the Global Dental Market 2019 Report, by 360 Market Updates, it is predicted that the global dentistry industry will reach a size of $36.5 billion by 2024 based on a compound annual growth rate of 5.8% between 2019 and 2024.
On Feb 4, 2020, The American Dental Association (ADA) Health Policy Institute (HPI) released its second annual Dental Industry Report. "The latest data show a slight recovery in the dental care economy in terms of overall dental spending, fueled by an uptick in utilization and spending among patients with private dental insurance," said Marko Vujicic, Ph.D., vice president of HPI.
It's not difficult to see why dominating the YouTube rankings in the lucrative dental marketing industry would incite excitement, especially for a small digital marketing agency based in Canada, now growing rapidly and competing on the global stage.
About North Digital Inc:
North Digital is a digital marketing agency based in Vancouver, BC, Canada. North Digital applies the scientific method to algorithm-based advertising platforms such as Google and Facebook to generate its clients a constant stream of new online customers each month. To learn more visit http://www.north.digital.
About Sean Wiggins:
Sean Wiggins is a Canadian entrepreneur who is passionate about digital marketing and entrepreneurship. To learn more visit SeanWigginsConsulting.com.